The Best (and Easiest!) Valentine's Day Crafts on Pinterest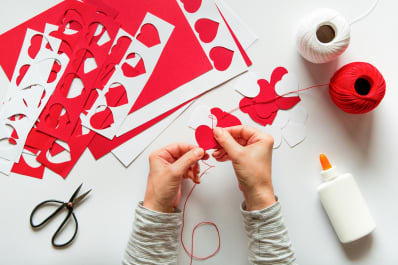 (Image credit: Pixel Stories/Stocksy)
No matter how crafty you are, the dead of winter is the best time to hunker down with some hot chocolate or wine and make something. And with Valentine's Day right around the corner, we rounded up some of the easiest and cutest projects on Pinterest.
Whether you're celebrating many years with a significant other, turning the celebration into Galentine's Day with your girlfriends, or hanging with the kids, there are tons of fun ways to spread the love.
1. Printable Fortune Cookies
The folks at Evermine did the hard part for you. Now you just need to print out the templates, write out some sweet messages, and get folding.
See it on Pinterest: Free Printable Valentine Paper Fortune Cookies
2. Felt garland
For a whimsical, bohemian take on V-Day, try a felt garland like this one from The Turquoise Home — all you need are felt balls and a needle and thread! String them from the chandelier for a romantic dinner date or across a chalkboard with a sweet note.
See it on Pinterest: DIY Valentine's Day Felt Ball Garland
3. Love string art
Get in on the string art trend by making a cool decor piece you can hang year after year, like this one from Sincerely Jean. The list of necessary supplies is as follows: wood, paint, nails, and yarn!
See it on Pinterest: Valentine's Day String Art
4. Heart Ornament
We told you string art was a trend! This easy craft from Tidbits just requires some cardboard and yarn. Make a few and hang them up throughout the house. And you thought ornaments were just for Christmas!
See it on Pinterest: Valentine Yarn Heart
5. Valentine's Day bird feeders
One way to get some life around your window in the middle of winter: Attract birds with a sweet heart-shaped bird feeder, like this one from Wine and Glue. Making them is a fun activity for kids or a gathering of your best girlfriends.
See it on Pinterest: Valentine's Day Bird Feeders
6. Conversation heart piñata
Okay, so these piñatas from Studio DIY are a little more involved than some of the other crafts on this list, but we can all agree that the payoff will be worth the effort.
See it on Pinterest: DIY Conversation Heart Piñatas
7. Paper heart wreath
This simple paper wreath from Hello, Wonderful can be done in any of your favorite colors. You probably already have everything you need to make it.
See it on Pinterest: Paper Heart Wreath
8. Paper straw necklace
The cheapest way to accessorize yourself — or your kids — in red and pink is with a necklace or bracelet made of paper straw "beads," like this one from Paper and Glue. Advanced crafters: Try making a bib-type necklace, like the one seen here, instead of a simple strand!
See it on Pinterest: Easy Valentine Paper Necklace
9. Conversation heart vase
The easiest-ever Valentine's Day centerpiece comes from A Day in My Life. Start with two clear vases, nest one inside the other, and fill the space with conversation hearts (red-hots, M&Ms, and jelly beans work, too!) like they did on A Day in My Life.
See it on Pinterest: The Perfect Centerpiece
10. Hershey's Kiss mice
Everything's better with googly eyes! These little treats from Practically Functional are easy to make and just as fun to receive. Make a bunch as place cards for a party, or have your child make one for each kid in his class.
See it on Pinterest: Hershey's Kiss Mice
Which one are you most excited to make?