The Clean Plates Cookbook by Jared Koch with Jill Silverman Hough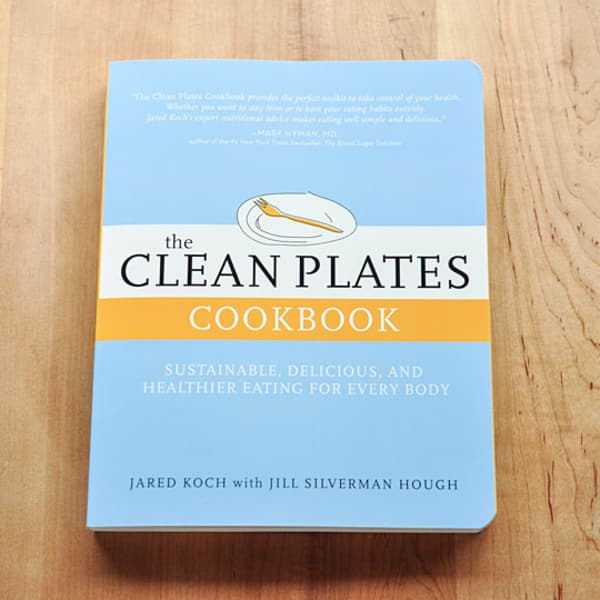 I think it goes without saying that the whole idea of "eating healthy" is a confusing one these days. It is incredibly hard to wade through the conflicting information on what, exactly, constitutes "healthy" — to the point where any attempt to change our diets starts to feel like a gymnastic event. It helps to have...well, some help! Clean Plates Cookbook has advice for everything from setting up your pantry to finding an eating plan that works for you. It's a place to start.
Quick Facts
• Who wrote it: Jared Koch with Jill Silverman Hough
• Who published it: Running Press
• Number of recipes: About 120
• Recipes for right now: Coconut Hot Cocoa, Morning Miso Soup, Kitchen Sink Almond Butter Snack Bars, Smashed Avocado Toasts, Cauliflower Soup with Roasted Garlic Oil, Mustard Greens Salad with Roasted Beets and Toasted Pistachios, Barley Risotto Primavera, Turkey Chili Verde, Double Ginger Cookies, Honey Ice Cream
• Other highlights: Reading through this book, I was really struck by how very practical it all was. The basic concepts outlined in Clean Plates Cookbook will be familiar to many of us a version of Michael Pollan's succinct advice: "Eat real food. Not too much. Mostly plants." But author Jared Koch helps us take this idea and put it into real everyday practice. That's very helpful!
I will confess that there is a whiff of "self-help guide" here. From his "Five Precepts" for healthy eating (helpful for summarizing key points, but...wince...) to a tone so unrelentingly earnest and upbeat that you can see his million-dollar smile from your sofa, yes, the book can start to feel a bit over the top.
But I think The Clean Plates Cookbook is still worth checking out. If one of your goals this year is to get into a habit of healthy eating, I think this book can be a good place to start.
• Who would enjoy this book? People wanting to kickstart a healthier lifestyle and change the way they eat.
Find the book at your local library, independent bookstore, or Amazon: The Clean Plates Cookbook: Sustainable, Delicious, and Healthier Eating for Every Body by Jared Koch with Jill Silverman Hough
• Visit the author's website: Clean Plates
Apartment Therapy Media makes every effort to test and review products fairly and transparently. The views expressed in this review are the personal views of the reviewer and this particular product review was not sponsored or paid for in any way by the manufacturer or an agent working on their behalf. However, the manufacturer did give us the product for testing and review purposes.
(Images: Emma Christensen)
Kitchn supports our readers with carefully chosen product recommendations to improve life at home. You support us through our independently chosen links, many of which earn us a commission.