The Cauliflower Swap: How to Upgrade Your Favorite Comfort Foods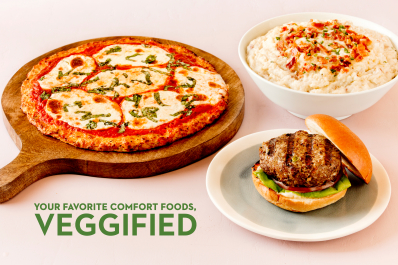 (Image credit: Rikki Snyder)
Problem: The most delicious foods often lack in nutrients. You want to get in more veggies, but turning your back on glorious starches feels like a betrayal of a very good friend.
Well worry not! Green Giant® has solved the problem with a new line of veggies that easily swap in for less nutritious favorites, and we think you'll want to make the flip.
Their new Mashed Cauliflower and Riced Veggies are 100-percent pure vegetables that you can swap into some of your favorite recipes for healthier, lower-calorie takes on some delicious dishes. You'll get the potassium and vitamin C you wanted — and the glucosinolates you didn't know you wanted — plus the joy of your favorite comfort foods.
One serving of Mashed Cauliflower, for example, has a full serving of the veggie, so you can swap it in for regular mashed potatoes and cut your calories by 45 percent. Or take Riced Veggies; the Riced Cauliflower makes a great replacement for regular white rice, with up to 85 percent fewer calories.
Don't believe us? We made some of your carb-tastic favorites — mashed potatoes, pizza, and burgers — and then made them again with Green Giant veggies. Flip each one to see the new twist on your old favorite...
Swapping in cauliflower was super easy! Find out how to make mashed cauliflower, cauliflower pizza dough, and cauliflower burgers on thekitchn.com.
Try some veggie swaps of your own! Get a coupon for $1 off at greengiant.com.
Photos by Rikki Snyder
This post is sponsored by Green Giant.
Thank you for supporting the brands that make Kitchn possible.