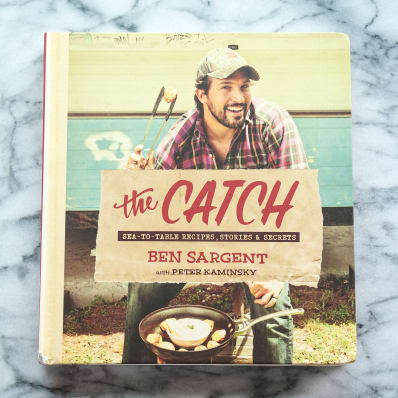 If Cambria's posts from her Alaska fishing trip have given you a fierce craving for seafood, then I may just have the solution. This new book from the host of Hook, Line & Dinner is all about giving us an excuse to have fish for dinner. From lobster bisque to tamarind-glazed sword fish, Ben Sargent shows us how it's done.
Quick Facts
• Who wrote it: Ben Sargent
• Who published it: Clarkson Potter
• Number of recipes: Around 100
• Recipes for right now: Razor Clams with Angel Hair Pasta, Crab & Corn Chowder, Dr. Klaw's Lobster Rolls, Cornmeal Fried Oysters, Catfish Kebabs with Spicy Ketchup Glaze, Blueberry Summer Halibut, Smoky Salmon Chowder with Pumpkin, Salsa Striper in Foil
• Other highlights: Ben Sargent is the kind of guy who makes you want to eat seafood for breakfast, lunch, and dinner. He is so enthusiastic about seafood and so genuinely excited to share all the ways to prepare it that it's impossible not to get pulled into his world — whether that world is his Cooking Channel show or the pages of this book.
I found this book to be completely approachable in both its organization and its content. The recipes are organized, quite simply, by the type of shellfish or fish being cooked. Pick up whatever is fresh and tasty at the fish counter, and just flip to the corresponding section for ideas on how to cook it. The recipes themselves are a good mix of very simple, straightforward recipes — like steamed mussels and basic grilled fish — with more complex recipes influenced by a range of world cuisines — like sardine skewers with thai dipping sauce and smoked whitefish pâté.
I am not a fisherwoman, and truth be told, probably never will be. But I still loved reading Ben Sargent's stories of learning how to catch swordfish or pulling carp out of a freshwater pond in Queens or wrestling octopus (rawr!). Besides being highly entertaining, these stories contain nuggets of culinary knowledge about choosing the best seafood in season and cooking it to perfection.
• Who would enjoy this book? Cooks who love fish and want to love it even more
Find the book at your local library, independent bookstore, or Amazon: The Catch by Ben Sargent
Apartment Therapy Media makes every effort to test and review products fairly and transparently. The views expressed in this review are the personal views of the reviewer and this particular product review was not sponsored or paid for in any way by the manufacturer or an agent working on their behalf. However, the manufacturer did give us the product for testing and review purposes.
(Images: Emma Christensen)
Kitchn supports our readers with carefully chosen product recommendations to improve life at home. You support us through our independently chosen links, many of which earn us a commission.