The Budget European Destination You've Never Heard Of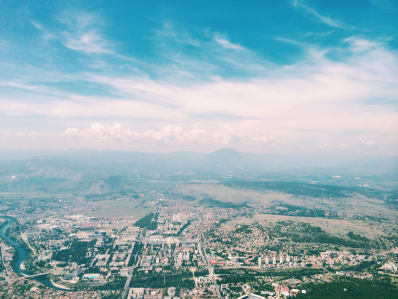 (Image credit: Photo: Zocky/Stocksy)
Living in Budapest, I am just a 75-minute flight away from Montenegro. I know little about this Balkan nation once part of the former Yugoslavia other than its purported beauty. Come, the articles tempt, to savor the Adriatic Sea from the beaches of medieval Budva, wander the cobbled lanes of the UNESCO-designated Kotor, and succumb to nature at Lake Skadar and Lovcen National Park. If you are wealthy, they suggest, hole up in a suite at the Aman Sveti Stefan, or shop, alongside the hordes of well-heeled Russians, at overpriced boutiques in Tivat.
Do not, they warn, waste your time carousing in the capital of Podgorica, where there is little to regale the curious. I don't believe them. A Wizz Air flight is booked.
Explorations underway, I notice that the streets are indeed quiet; Podgorica is hardly as lively as, say, Sarajevo north of the city or Tirana to the southeast. Teeming with boxy, bland, Soviet-era apartment buildings, it certainly isn't beautiful either. Podgorica was nearly decimated during World War II — only a few striking Ottoman-era relics are found in the Old Town — and deep scars remain on full display.
Still, it's a warm, albeit quirky place that promises an unconventional urban experience — one manufactured for its residents and devoid of tourist traps. A relaxing city, compact and easy to navigate, Podgorica has a soulfulness best glimpsed in the city's affordable restaurants, bars, and cafes. I immediately feel like a local.
One place that espouses such comfort for me is Restoran Vuk adjacent to the cathedral, a rustic, stone-dressed setting for heaping platters of Ćevapi, a Balkan meat and onion sausage, followed by apple cake. Another is Buregdžinica Zabjelo, a tiny storefront close to Grodki Stadion serving flaky, homespun spinach pies. One is large enough for lunch, heaved from a silver baking pan and onto a plate brought to one of the few tables outside for demolishing.
I feel equally cozy in the company of pizza and live piano music at the dark, cave-like Lanterna, as well as at the flashy, local ingredient-espousing 21 MNE Urban Bistro, its patio coveted for feasting on goat cheese salad, octopus carpaccio, and pork ribs.
What to Do (Besides Eat) in Podgorica
Landmarks are few in Podgorica, so the stress of filling days with back-to-back cultural activities is non-existent. There is, of course, the Cathedral of the Resurrection of Christ, an Orthodox church with a stunning gold-and-mural-covered ceiling and walls to gawk at; the cable-stayed, futuristic Millennium Bridge to walk across; and the artifact-filled Museum & Galleries of Podgorica.
Much of daily Podgorica life, like in other European cities, unfolds in animated, all-day cafes. I spend hours working in them, listening to indecipherable excerpts of Montenegrin as if it is background music.
I order back-to-back inky espressos in joints such as Caffé Nero, which mixes wood, gilded photos, and lacy curtains, and Haustor, a side-street reprieve that has a nostalgic, cluttered yard-sale vibe, an antique radio planted on a shelf and a bicycle gracing the wall.
There is also Titograd — the city's Socialist-era name for nearly 50 years — where boisterous men drink Bosnian-style coffee outside, and brick-walled Culture Club Tarantino, which before it morphs into a nightlife hub on the busy bar-and restaurant-packed street Bokeška, invites perching on a banquette with a laptop.
I find Podgorica's best macchiato, however, at the upbeat Zrno, in the new part of the city. Run by husband and wife Rajko and Julia, the welcoming space is spruced up by wood and greenery and packed with regulars. If the coffee concoctions — check out the chalkboard enlightening customers about the difference between a Doppio and Americano for example — don't appeal, spring for something more spirituous from the eye-catching, suspended backbar and sip it alfresco amid a tangle of smoke and laughter.
There is a similar, inviting vibe at Strudla, a beautifully designed restaurant and bar awash in books and albums where I eat Asian-spiced turkey and kick off summer with an Aperol Spritz.
Less than a minute away is cozy Biro. The garden is full, so I opt for the just-as-convivial tiled bar, an old television in the background adding charm. My final stop is at the bohemian Berlin for a nightcap of grape rakija, the Montenegrin version of fruit brandy.
On another evening I wind down with a glass of wine surrounded by vintage chairs and quotes from the namesake author at Culture Bar Bukowski, located in City Kvart, a fascinating nexus of residences, restaurants, and shops that feels more like I am in a polished D.C. suburb than the Balkans.
This area is also the home of My Brilliance, a soothing, colorful restaurant that makes Buddha Bowls an art form from health coach Jules Sung, who also leads yoga across the street at Blossom Space. Between the calming aesthetic and steady stream of almond butter-slathered toast, gluten-free brownies, and banana smoothies, I do not want to leave this nourishing environment, but I do — for the good-looking Chinese restaurant Zheng He and a solid order of kung pao chicken before a floral, made-in-Montenegro red at the modern, mirrored wine bar Forest.
Like other Eastern European capitals, I know it won't be long before Podgorica's hushed fate dissipates, making way for more luxurious development. I am glad I am here now.
Where to Stay in Podgorica
An Airbnb rental is surely one of Podgorica's most budget-conscious forms of accommodation, but stylish hotels also flaunt friendly rates. One of the best places to check in is Hotel Hemera, in the city center. On my first night in Podgorica I sit at the restaurant downstairs from the 15 spacious, jewel-toned rooms decked out with artwork and puncture a hot chocolate soufflé.
The more elaborate, 28-room Hotel Ziya, just a smidge outside the city center, resembles a villa with a spiral staircase taking center stage. Still, its tasteful rooms with floral wall coverings are also gently priced, and the breakfast buffet delightfully features hunks of bureka.
Last year the 180-room Hilton was transformed from the circa-1953 Crna Gora hotel, an iconic, one-time playground for celebrities. As I sit on the new incarnation of the stone-columned terrace among business travelers and face the fountain and park with a fresh-squeezed grapefruit juice in hand, I think of the Podgorica denizens who for decades religiously enjoyed downing a simple Turkish coffee in this very spot.
What's your favorite off-the-grid European destination?
Kitchn supports our readers with carefully chosen product recommendations to improve life at home. You support us through our independently chosen links, many of which earn us a commission.