"The Big Family Cooking Showdown" Taught Me How to Cook with My Family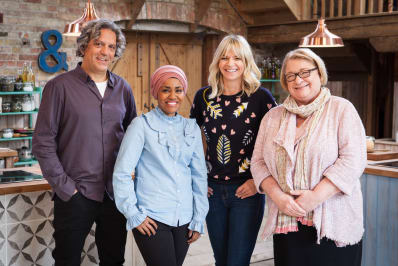 (Image credit: Netflix)
I have fond memories of being in the kitchen with my mom and sister, but I would never think to gather my family for a day of cooking. Usually lines are drawn in the journey from kitchen to table: cooks vs. eaters, hosts vs. guests.
There's something very "We're all in this together! We're a family!" about intentionally coming together in the kitchen to cook a meal. The Big Family Cooking Showdown captures this magic. The show is a spin-off of The Great British Bake Off. Instead of battling for best baker, families compete against each other for best family of cooks. Instructions are yelled. Recipes are recited. Sauces are poured. It's the kind of low-stakes drama that's soothing to watch.
I binge-watched this show the second it was added to Netflix (thanks, wisdom tooth removal). The premise is delightful and it's fun to see Great British Bake Off Season 3 winner Nadiya Hussain be a host instead of a contestant. But mostly, in these pre-holidays weeks, I felt inspired to make a point of cooking with my own family. And watching 12 hours of other families battle it out at the stove provided plenty of pointers.
1. Be kind.
Families that were less snappish with each other tended to do better. And it looked like more fun too. It can get tense in the kitchen. I know I can be a little curt and bossy — that I can put on a bit of a drill sergeant act when I want a recipe to go a certain way. Why not have fun instead? Who cares if it's perfectly sauced, whatever that means? Isn't the point to be together? It's not like my family is on a cooking competition show. We're just trying to make a meal together.
2. Be focused.
With a lot of cooks in the kitchen, it's easy to lose the script. In one episode, a contestant keeps getting distracted and burning dishes. In another, someone misuses the ingredients at a key moment. These are little mistakes that can happen to anyone, but they're a bit more likely if you're frazzled and cooking in a group.
Focus comes from dividing tasks. Give people ownership over particular dishes so that they can stay focused. Set timers. And be gentle if it doesn't work out. You can start over. It's going to be okay.
3. Be confident.
Families who did particularly well and seemed particularly calm had the confidence that comes from practice. They'd made these dishes together so many times the recipes had worn grooves into their minds. They could enter the muscle memory of the dish. Tradition ties families together. Be confident, and earn that confidence through passing down recipes and working on them until they're a part of your inner cookbook.
Have you watched The Big Family Cooking Showdown? What do you think? Let us know in the comments!