The Best Way to Pick a Watermelon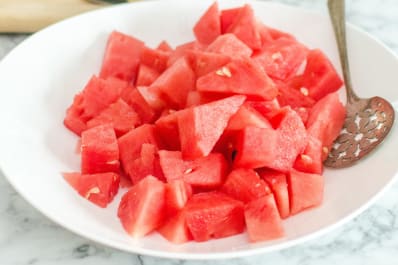 It won't officially be summer until you've had your first watermelon of the season. Chances are, though, that it's been about a year since you've bought your last watermelon. Do you remember how to pick out a good one? Did you ever really know?
Here's what you need to look for in order to spot the perfect picnic-worthy specimen.
There's a definite art to picking the very best watermelons. It involves weighing the watermelon between your hands, turning it over, and giving it a firm thwap! on the underside. Why? A heavy watermelon with a splotch on its belly and a hollow sound means it is brimming with juice and at the peak of its ripeness.
Lucky for you, buying watermelons at a farmers market takes out much of the guesswork: Farmers know their business and will only harvest watermelons for sale when they're truly ripe. When in doubt, ask the farmer to pick a melon for you. At a farmers market, you can also taste a sample and feel confident that the watermelon you take home will taste the same.
At the grocery store, you're more likely to be on your own. But not totally on your own, because we've got some steps to help you pick out the best watermelon.
How to Pick a Watermelon at the Grocery Store
Pick it up: Big or small, the watermelon should feel heavy for its size.
Look for the yellow spot: Watermelons develop a splotch where they rest on the ground. When this splotch is creamy yellow, it's ripe.
Give it a thump: Tap the underbelly of the watermelon. A ripe one will have a deep hollow sound. Under-ripe or over-ripe melons will sound dull.
Use That Watermelon!
Do you have any other tips for picking the ripest watermelon from the bunch?
Kitchn supports our readers with carefully chosen product recommendations to improve life at home. You support us through our independently chosen links, many of which earn us a commission.