The One Thing I Always Seek Out at the Grocery Store When I Travel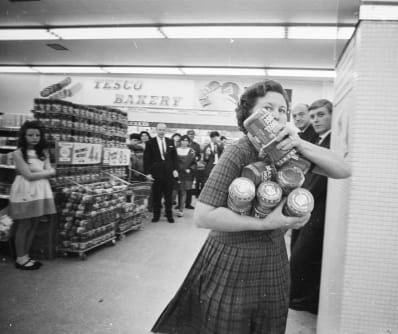 (Image credit: Hulton Archive/Getty Images)
One of my favorite things to do when I travel around the United States is visit a local grocery store. While grocery shopping in New York — my home — feels like a chore at times, heading to the grocery store in another city feels like a treat. You can learn a lot about a place from how they stock their grocery store. I love walking the aisles and seeing the variety of produce, the different ice cream pints and gallons, and the specialty local sections (if they have them).
There's always one section I seek out at the grocery store, however, whenever I visit a place. The cheese aisle is great, but it doesn't have anything on this. It doesn't matter if it's a big city like LA, or a small town like Roseau, Minnesota — there's always something a little exciting or interesting about this one section. Do you feel the same way?
My favorite thing to look for at local grocery stores across the United States is kombucha. Wait, before your roll your eyes and tell me that's the bougiest thing you've ever heard, let me explain. I promise it's both practical and interesting
Kombucha has become increasingly more and more popular in the last few years. There are the big brands like GT's and Health-Ade that I see just about everywhere, but then there are also a ton of local and regional brands that are popping up across the country that you can only get when you visit a place. Everywhere I go there's a new brand to try, and when it's under $5, it feels like a small taste of what it means to live there.
For example, in Louisville, Kitchn's managing editor Geraldine Campbell found a glorious bottle from Kentucky Kombucha. And whenever I'm in California I make sure to check out the variety of Revive kombucha at the grocery store. Sure, sometimes you won't find anything except GT's, and sometimes you won't find anything at all, but it's worth the trip to find out.
Besides just being delicious and an interesting way to "explore" a new place, kombucha is my not-so-secret weapon for batting traveler's tummy. Some people go for ginger ale or Coca-Cola, but kombucha is the thing that sets me straight when I'm feeling out of sorts.
What's your favorite thing to seek out at the grocery store when you travel? Let us know in the comments!