The Best Vacation for Your Zodiac Sign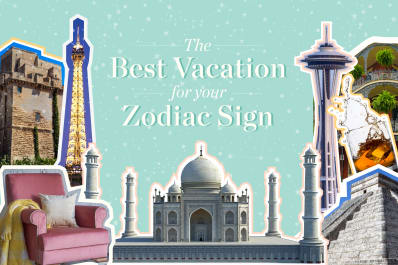 (Image credit: Shutterstock/Design: Susanna Hopler)
Our zodiac sign gives key insight into our personalities, career paths, and love lives — not to mention which cocktails, snacks, and chocolatey indulgences are cosmically approved. What isn't in the stars?
Let's see what the celestial powers have to say about where your next vacation destination should be.
Aquarius (January 20 to February 18)
Witty, wise Aquarius loves being independent, so when it comes to the perfect holiday, you get revved up at the idea of discovering a destination that's off the beaten path. Consider: Puglia, Italy. And leave your stuffy guidebooks at home; inventive Aquarius likes discovering the best pasta dishes and gelato places on your own.
Pisces (February 19 to March 20)
Start practicing your conversational French now because romantic Pisces should head to Paris, France for your ultimate vacation. Not only is your artistic side inspired by the City of Light, but locking lips on the Eiffel Tower is also pretty much your number-one dream, which is a big deal because you have lots of big, inspiring dreams.
Aries (March 21 to April 19)
Passionate Aries would happily trade in the chilly season for the hot days and hotter nights of vibrant Miami, Florida. Whether you stroll through the Design District or bop along the oceanfront, the upbeat, energetic Miami lifestyle is a perfect match for this adventurous fire sign. Make sure you use the hashtag #bestholidayever when you post a selfie on social media sipping a pool-side piña colada.
Taurus (April 20 to May 20)
Generous Tauruses love the finer things in life, so you will appreciate the refined elegance of taking a cruise, perhaps down the Danube? Since you're dependable, you'll have no trouble keeping track of the day's activities. And since you're so wonderfully patient, you'll adjust to the leisurely nature of cruise life remarkably well.
Gemini (May 21 to June 20)
Geminis are mostly known for having dual personalities, and this is definitely true when it comes to taking a vacation. You're on the fence between taking a big city break and holing up in a cabin in the woods for a week of R&R. Have it both ways with a vacation in Montenegro. The capital city of Podgorica offers an unconventional urban experience — one that's quirky, soulful, and blissfully devoid of tourist traps. Plus, you can easily escape to the Adriatic Coast if you start to feel claustrophobic.
Cancer (June 21 to July 22)
Empathetic and moody Cancer loves all kinds of comforting things. That's why your dream vacation is staying put. You can do all the things you never quite find the time to do — check out local museum exhibits, cook elaborate dinners, grab a croissant at that new bakery across town everyone's been raving about — all while sleeping in your own bed.
Leo (July 23 to August 22)
Confident Leo loves drama and attention, so your ultimate holiday vacation would be someplace over the top and brimming with excitement. That's why you should head to Mexico City! Whatever your lion-esque appetites are, this bustling city can accommodate you; everything from sensational street food to excellent world-class fine dining is yours for the taking.
Virgo (August 23 to September 22)
Virgos are exacting and super organized IRL; when it comes to vacation, they want to let loose. And is there a more exuberant, chaotic, delicious destination than Bangkok, Thailand? Imagine: the smell of steaming rice, simmering galangal, freshly chopped chilies and herbs, traffic fumes, and the heaving sea of humanity. Put aside your picky tendencies and try the street food (look for vendors with long lines) and cool off with an ice-cold coffee swirled with sweet milk.
(Image credit: Charity Burggraaf)
Libra (September 23 to October 22)
Libras love to feel balanced, which is why you'll love the cool vibe Seattle has to offer. Not only do you have the sleek, modern downtown to explore, but you also have both the water and the majesty of Mt. Rainer close by. It's a perfect mix of city and nature.
(Image credit: Liz Clayman)
Scorpio (October 23 to November 21)
Scorpios are passionate truth-seekers, which is why you should whip out your passport and head to India for your next holiday. Specifically, we're thinking Amritsar, in the northwestern Indian state of Punjab. Known for the Golden Temple, the most significant place of worship for people from the Sikh faith, but welcoming of everyone, it is also one of the finest places to tuck into an array of vegetable, lentil, and meat gravies eaten with a variety of breads. Eat, pray, and love with intensity and honesty.
Sagittarius (November 22 to December 21)
The explorers of the zodiac, Sagittarians, are footloose and fancy-free. The world really is their oyster, so where in the world should they go? We think the laissez-faire vibes of the Big Easy will capture your fancy. You'll have a blast snagging a drive-thru daiquiri and strolling along Bourbon Street, but you'll enjoy exploring what lies outside of the French Quarter even more because that's where you get to see the true soul of the city. Whatever you do, we know you'll be open to the exciting adventures that await you.
Capricorn (December 22 to January 19)
Capricorns are practical and resourceful, with a crazy, fun side that comes out ... well, not that often. But you should encourage that part of your personality and also take advantage of your mad planning skills. Can you say road trip? You have the chops to plan it, get lost and find your way, and also allow for some off-the-grid adventures, should you so choose. This time of year, we suggest heading west, young woman, for California sun and ice cream.
So, how did we do? Where are you going for your next vacation? Share with us in the comments!