The 15-Minute Seattle Field Trip All Food-Lovers Should Take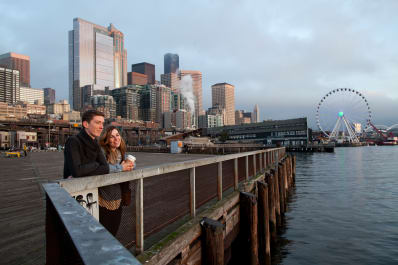 (Image credit: Charity Burggraaf)
I live on a rural island, a 15-minute ferry ride west of Seattle. Even people who have lived in this area for decades might never have ventured to Vashon. It seems far away and dreamy, a small town set in green forests and rocky beaches. We have a fair number of people living in yurts here, along with two avant-garde mixed-media performance troupes, a store downtown dedicated solely to origami creations, more llama farms than anyone can count, and a coffee roaster-cum-natural foods store that also sells herbal remedies and local ice cream.
Another writer years ago once described Vashon as "Mayberry meets Burning Man," and it's still the best description I can gather. This place is pretty funky and wonderful.
Until a few years ago, however, no one was coming here for the food. We had a couple of burger joints, two mediocre Mexican restaurants, a gathering place in the middle of town that was more about the ambience than the meals, and a boring Chinese restaurant. That's about it.
Now, however? Now people come to Vashon just to eat. And if you have to be gluten-free, you're in luck. All the best places here know how to feed you, too.
Gluten-Free Girl's Guide to Vashon Island
17614 Vashon Highway SW; 206-408-7196
Five years ago, when May's was set to open, all of us locals would have been thrilled if it had been merely okay. A Thai restaurant on the island? Sign me up. Well, it turned out to be spectacular. (Travel and Leisure named it one of the 10 best Thai restaurants in America.)
Enter into May's and you feel like you're in a different world — and, in a way, you are: The wood on the walls and decorations were shipped to Seattle from a demolished house in Thailand. You can get pad Thai made to order at the table and some seriously fabulous cocktails. I must order the fried watercress appetizer — fresh watercress coated in rice flour and flash fried, heaped in a towering pile, drizzled with coconut milk and served with tamarind-Thai chili dipping sauce — every time.
Make a reservation in advance. You'll need it.
17629 Vashon Highway SW; 206-463-0489
Full disclosure: My husband is one of the chefs at this Northwest-meets-French-technique-meets-Southern-barbecue neighborhood joint. He decided to return to the line after five years away from restaurants because this place is so darned good.
The owners, wife-and-husband team Pepa Brower and Dre Neeley, worked at some of the better restaurants in Seattle, in the front of the house and the kitchen, for decades. In their own space they offer a menu that changes every season, with succulent fried chicken; market fish with gremolatas; a farmers market snack plate; and an unbelievable burger made of rib-eye, smoked ham hock, and duck breast. Seriously: This alone is worth the ferry ride.
On Sundays, Gravy becomes a barbecue joint, with pulled pork, ribs, collard greens made with house-made pork confit, and andouille sausage. Come on over.
9925 SW Bank Road; 206-259-2179
Vashon has a bit of a reputation as a hippie haven, so it's not surprising that we have a gluten-free, vegan, mostly organic, sometimes raw-foods cafe. It's run by earnest people who take time to make fresh green smoothies; quinoa bowls with sprouts and truly delicious lemon-tahini dressing; fresh salads; and even wellness shots with lemon, ginger, garlic, and cayenne. Of course they do.
17506 Vashon Highway SW; 206-463-1441
Sam Weigand, the owner and creative baker of Vashon Island Baking Company, has something for everyone. The tiny bakery right in the middle of town has bacon-pecan croissants; vegan coffee cake; and gluten-free muffins, scones, and mochi cakes.
17637 Vashon Highway SW; 206-463-1033
Sam also runs Glass Bottle Creamery, down the street, a tiny sliver of a store that sells local milks, cheeses, and eggs, along with some of the best ice cream I have ever eaten. I have a scoop of the honey lavender on a gluten-free waffle cone nearly every Sunday. It's a ritual here.
17722 Vashon Highway SW; 206-356-5684
This Mexican restaurant, run by husband and wife Jorge and Effie, was a godsend to the island when it started as a taco truck. We lined up in the gravel parking lot off the main highway, 10 to 15 people deep, to eat their fish tacos and carne asada. Now it's a permanent restaurant in a little shack next to the Presbyterian church, across from the movie theater. Everything is made fresh; everyone leaves satisfied.
17705 Vashon Highway SW; 206-463-7777
My favorite french fries can be found in an old Dairy Queen building decorated with bright colors and little statues and photographs of zombies strewn everywhere. It's hard to find gluten-free french fries, since most places fry everything in the same oil. (That makes me sick from the cross-contamination.) Zombiez has a dedicated fryer. They also use local beef to make their burgers and offer gluten-free buns. My kids will never have enough of this place.
17123 Vashon Hwy SW; 206-408-7159
Bramble House, the newest place on the island, is run by a former sous chef for Jean-Georges Vongerichten. It's the most expensive place in town, with a wine cellar and private dining rooms. People are coming over from the city just to eat this seasonal food.
17519 Vashon Hwy SW
Finally, I'd be remiss not to recommend a trip to the Saturday farmers market, right in town, for an islander's tamale stand, various local bands, vegetarian sandwiches, cultured cashew creme, and all the kale you would ever want to buy.