The Best Seasonal Items at Trader Joe's, According to Reddit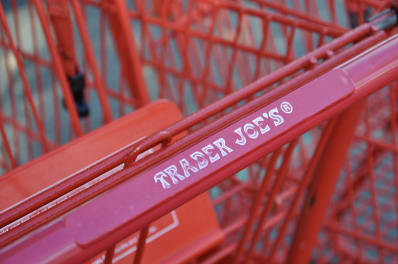 (Image credit: Lester Balajadia)
Limited-time seasonal items are such a delicious tease. They make you fall in love with them, and just when you think you can't live without them, they vanish and you're left with nothing but memories and pumpkin spice-scented candles. Rude.
Trader Joe's is one of the best there is at seasonal items. People stockpile Trader Joe's cranberry sauce and butternut squash macaroni and cheese in their freezers like squirrels storing nuts for the winter, because they know they'll disappear after just a couple months.
I love Trader Joe's, but nobody knows and loves Trader Joe's like the superfans over at the dedicated Trader Joe's forum on Reddit. Over the weekend, a user going by MsMarhaS asked everybody, "What's your favorite seasonal item? Why?"
Here's what you should stock up on this year, according to Reddit.
(Image credit: Trader Joe's)
Butternut Squash Macaroni and Cheese
Trader Joe's debuted this butternut squash macaroni and cheese last fall, and it immediately gained a cult following.
"That butternut squash Mac and cheese from back in October is amazing and I really hope it comes back," wrote a user going by the very appropriate handle Im_a_sweet_potato. "I still have a couple boxes in my freezer that I'm saving because it's so delicious."
Read more: Butternut Squash Mac and Cheese from Trader Joe's
Candy Cane Joe-Joe's
"Candy Cane Joe-Joe's, quite obviously," said a user going by swimmingindiamonds, and it looks like at least 28 people agreed.
That one is no surprise; Candy Cane Joe-Joe's are a cult favorite at Trader Joe's. They're basically an Oreo cookie with little shards of candy cane in the cream, and people wait all year for them to come out.
(Image credit: Trader Joe's)
Halloumi Cheese
It's the middle of grilling season, and Trader Joe's Halloumi cheese got multiple votes. Trader Joe's recommends serving it grilled on skewers with watermelon and balsamic vinaigrette.
"Omg I've been grilling the halloumi with the chicken shawarma and their tzatziki and grilled veggies. One of my fave meals," wrote a user going by nachosmmm.
Everything Pumpkin-Flavored
When we hit pumpkin spice season in a couple months, be prepared to buy everything at Trader Joe's that isn't nailed down. It seems like everything pumpkin flavored is a favorite seasonal item, including pumpkin waffles, pumpkin butter, pumpkin ice cream, pumpkin bread mix, sticky pumpkin cake, gluten-free pumpkin pancake mix, and pumpkin macarons. Especially do not miss the pumpkin macarons.
"The cookie itself is okay for store bought, frozen macarons," wrote a user going by scholars_rock, "but the pumpkin flavor is on point, price is on point."
(Image credit: Trader Joe's)
Here's My Favorite Seasonal Trader Joe's Product
My favorite was always the mini dark chocolate mint star cookies that comes out during the holidays, and this year they finally came out with a year-round version. The stars are still a seasonal item, but during the rest of the year you can get circle-shaped dark chocolate mint cookies that are basically the same.
It'll be awhile before the pumpkin and peppermint faves come back in stock, so for now it's time to take advantage of summer items like frozen Key lime pie, jerk chicken skewers, lemon ricotta ravioli, watermelon cucumber water, and sunscreen.
What are your favorite seasonal items at Trader Joe's?