What You Should Eat in June, According to Your Zodiac Sign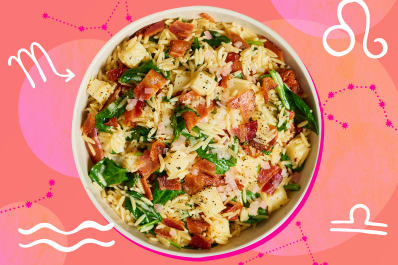 (Image credit: Photo: Joe Lingeman)
The sun is shining down on you this month, dear star babies. It's time to slip on those sandals, try on a new dress, and get recipe planning. I've done my research and found out exactly what you should be eating in June.
Aquarius (January 20 to February 18)
As a smart and curious individual, you need a recipe that challenges you in the kitchen. That's why you need to tackle this jerk chicken skillet dinner, which packs a ton of flavor.
Pisces (February 19 to March 20)
You enjoy recipes that whisk you away in the romance of cooking. You've probably watched Ratatouille like 30 times because — damn that mouse is just so sweet and eager! That's why this lemony ricotta pasta with basil is your perfect match. It only takes 15 minutes to make and there's lots of cheese to fill your sappy heart.
Aries (March 21 to April 19)
You enjoy taking risks, and this month there are going to be lots of ways to stretch this muscle. In order to balance out the potential chaos, you need a sturdy recipe like this bacon and orzo spinach salad. This is something you could make for lunch at the office, or an easy side dish for parties, or a satisfying dinner.
Taurus (April 20 to May 20)
You're obsessed with beautiful things, and you deserve a recipe that is just as pretty as it is delicious. That's why this recipe for frozen grape and granola yogurt bark should be on your meal plan in June. It's stunning (duh), but also a super-delicious alternative to a smoothie bowl for breakfast.
Gemini (May 21 to June 20)
It's your birthday month! In order to make things a little bit easier for you in the cooking department (because we know you can be indecisive), we've found a fan-favorite recipe for you to make in June: Kitchn's tomato chickpea salad. It's simple, it's fresh, it's everything you'll want to eat for a light dinner or lunch.
Cancer (June 20 to July 21)
You feel so much and that's not always a bad thing. Own it in the kitchen this month! Eat your feelings and dig into this rhubarb lavender crisp. Go ahead and eat the whole damn skillet if that's what brings you joy.
Leo (July 22 to August 22)
I see lots of summer days drinking outside with your friends this month, which means you should consider hopping into the kitchen and making baked jalapeño popper dip. The buttery, crunchy Ritz cracker topping will be a huge hit.
Virgo (August 23rd to September 22)
This is the month to shake things up a little bit and try something new. You like routine, but it doesn't alway serve you as well as you think it does. That's why you need to make this avocado caprese salad. It's something you can whip up with little foresight and everyone will love it because, hello, have you seen this recipe?
Libra (September 23 to October 22)
You have trouble saying "no" to people, but that can actually be a good thing this month. Things in your personal and work life are pretty stable this month, so feel free to be a little more bold in June — especially when it comes to dinner. Try this easy jalapeño grilled chicken, which is casual enough to make for dinner, but also brings the heat.
Scorpio (October 23 to November 21)
You have a fiery personality, and you need something calming and cooling to balance you out. Good thing there's a bunch of delicious salads to make for dinner in June, including this light and easy broccoli salad that has a lot of great texture.
Sagittarius (November 22 to December 21)
You need a fun recipe to make this month, and these salt and vinegar cucumbers are here to help you out. They're the side dish and snack that will woo a crowd without a lot of work.
Capricorn (December 22 to January 19)
The recipe that's going to help you get dinner on the table fast this month is this creamy Parmesan garlic mushroom chicken. The secret to this dinner lies in the sauce, which is rich and luxurious.