The Best Podcasts for Every Situation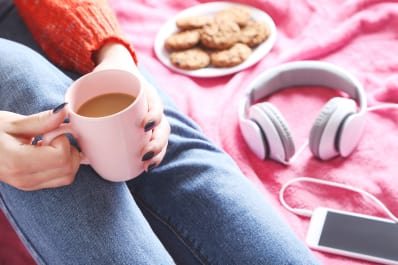 (Image credit: 5 second Studio/Shutterstock)
Snow is piling up outside your window and you're stuck at home for the foreseeable future. Sure, you can tackle some chores, but after you've organized your kitchen, cooked your heart out, and watched a handful of movies and TV shows, you might be ready for another kind of stimulation.
May we suggest diving into some podcasts? Not only are they free to listen to, but they can also be downloaded or streamed instantly. (Who are we kidding? You know what a podcast is!)
Whether you're looking for something to enlighten you, amuse you, make you emotional, or just make you think, we've got the perfect podcast to suggest. So put on a pot of tea, snuggle under your favorite blanket, and fill up your queue with some of the most innovative podcasts available.
If you're done cooking for the day ...
Just because your fridge and belly are full, doesn't mean your mind is. Stuff it with knowledge from one of these food-themed podcasts.
Get even more: 7 Food Podcasts That Make Cleaning Your Kitchen Fun
If you're addicted to reality TV shows ...
Listening to these podcasts will make you feel like you're surrounded by friends, even if you're stuck in your house (wearing no makeup and still in your pajamas).
If you want to dive deep into a specific topic ...
There's a crop of podcasts where entrepreneurs, media personalities, and various professionals tell you about their highly specialized world.
If you want to hear some awesome storytelling ...
We are living in the golden age of podcasts and shows like Risk, The Moth, or Snap Judgment, which highlight some of the best storytelling available. All three shows feature incredible personal stories featuring compelling guests.
If you want to laugh so hard, you scare your cat ...
Snow days can get boring after you've had your third mug of hot chocolate. To switch up the energy, chuckle along to these wonderful podcasts.
If you want to hide in a fictional world ...
Prepare a kettle of tea and dive into Homecoming, a gritty, groundbreaking series from Gimlet Media featuring the voices of Catherine Keener, Oscar Isaac, David Cross, Amy Sedaris, and David Schwimmer. It involves a government project focusing on soldiers returning home from war, and the creative storytelling will keep you glued to the show. That's all we'll say. Just listen.
If you want to get overly emotional ...
Feel like having a good cry? These podcasts will do that — and they might even make you extra appreciative.
If you want to listen to people making sense of intense events ...
Regret weighs heavy on these moving shows.
If you want your mind blown ...
Turns out, there's more than one way to look at something.
What podcasts do you like to listen when you're snowed it? Tell us in the comments!
Kitchn supports our readers with carefully chosen product recommendations to improve life at home. You support us through our independently chosen links, many of which earn us a commission.