The Best Place to Buy Paris Food Souvenirs Is the Airport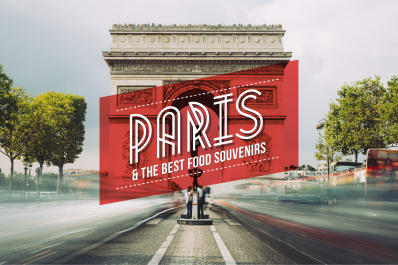 (Image credit: Susanna Hopler/Sergey Molchenko/Shutterstock)
Paris is so unbearably delicious that you want to take everything with you — just stuff all that amazing food in your bag so when you're home longing for the city you can at least console yourself with a taste of it. And you totally should! A plate of oozy, wonderfully stinky French cheeses isn't going to cure the malaise of missing Paris, but it's a start.
But listen: You don't have to spend your precious hours in Paris lugging around assorted and sundry food items. You can't exactly flit around the Marais if you're loaded down with bulky bags overflowing with wine, fragile pastries, and meltable chocolate, am I right?
Take it from me — you want to limit the storage of that cheese as much as possible. If you've ever exited your hotel elevator to wonder what that stench is, only to find it's wafting from your room, and specifically your refrigerator where you've stashed a particularly pungent cheese, you'll get it.
The Surprising Place to Buy Food Souvenirs in Paris
So, what's a Francophile to do? Ç'est facile! Just hit up the Charles de Gaulle airport shops. You're getting there way early anyway because you never know how long security will take. Once you're airside, instead of posting a bunch of #latergrams, go shopping!
Almost every terminal is home to a Buy Paris Duty Free shop that is a veritable fantasyland of the foods you dream about when you dream of Paris. (The Terminal 1 shop is a scaled-down version, as I learned on my last flight home via United, but even there you're going to find more than you can carry on.)
You'll show your boarding pass, and the clerk will bag up your prizes, receipt and all, inside a clear plastic bag that's sealed shut and not to be opened until you clear customs at home. You carry it on and through immigration and customs when you land.
If you have a connecting flight, here's the piece you have to be prepared for: Before you recheck your bag and go back through security, everything has to go inside it. So be sure you save room, or transfer laundry or something to your carry-on.
The Best Food Souvenirs to Buy at Charles de Gaulle
And now, here's what to look for so that once you arrive at home, you're ready to have a party celebrating delicious France!
1. Cheese
When my friend Sophie (who's from Paris and lives in Detroit now) told me she packs her suitcase with cheese every time she flies back from Paris, I was amazed. Those sniffing dogs at customs terrify me. How could she risk such a thing? Turns out it's totally legal. To be safe, I interrogated the employee at the duty-free shop. As long as it's pasteurized, she assured me, I could bring it home.
I picked a four-pack with a powerful olfactory punch (sorry, seatmates) and sure enough, I sailed through customs when I told the agent I bought my cheese at the duty-free. He didn't even look.
2. Foie Gras
I was introduced to the bliss that is foie gras when I spent a couple weeks at Kitchen at Camont in Gascony. I visited foie farms (where I learned it is not the devil) and duck markets, and learned to butcher ducks and make my own foie. That rather spoils a girl, and I've yet to taste foie stateside that compares.
Meat can be a big no-no in customs, but (again) Sophie promised me something like foie, so long as it's in a metal can, is fine. I picked up two cans of duck foie gras, and if I'd had the budget I'd have bought them all.
3. Chocolate
Terminal 2E and 2F are home to La Maison du Chocolat, where you can pick out gifts bound to dazzle your loved ones. These gorgeous creations go a long way toward saying "I'm sorry I went to Paris and you didn't." If you don't get this shop you can still pick up chocolates from Maxim's and Fauchon in the duty-free shops, in totally charming tins and packages, bien sûr.
4. Macarons
Whether you get a full-on Ladurée shop in your terminal or one of their adorable little carts, you'll have a chance to pick up these ethereal little jewels. It's somewhat agonizing waiting in line (there's always a line), watching your fellow passengers slowly making their flavor decisions and inevitably butchering the pronunciation, but all the better to relish making your own choices.
Nestled like the treasures they are in their gorgeous packaging they'll wait for you to wake up on the plane and remember they're there, sparking your first smile since the Eiffel Tower disappeared behind the wings. With a short shelf life of four days — and that's if they're refrigerated — you may as well start before landing.
5. Wine & Liqueur
French wine is so ridiculously affordable and fantastic that you really must bring at least one bottle home, even though that adds to the weight you'll lug around for a brief time. Another good bet? Liqueur. I picked up a bottle of Ricard with the cutest ever label for about half what it would cost at home, and look forward to many summer glasses of pastis.
Do you do your souvenir shopping at the airport, too?