The Most Brilliant Pantry Organization Hacks on the Internet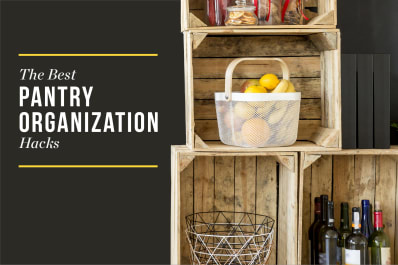 (Image credit: /Shutterstock)
Not everyone can have a walk-in pantry, but with the lure of Costco and the convenience of FreshDirect, it's easy to stock up on stuff you don't actually have space for. (Whoops!) Cue these ingenious solutions for creating just a little more space from an absurdly small — or even just a normal — pantry.
1. Put pantry doors to good use.
Whether your pantry is a walk-in room, small closet, or cabinet, the door is the perfect place for extra storage. Consider adding custom shelves or ready-made caddies from a place like the Container Store. You could even hang a shoe organizer over the back of a pantry door. Just don't waste that space. FYI: This is Gwyneth Paltrow's pantry, organized by the Home Edit. We just thought you should know.
2. Use magazine holders to file canned goods.
While most people use these multi-purpose bins for magazines and notebooks, Toni from A Bowl Full of Lemons realized that they're just the right size to hold 16- and 28-ounce cans. You can fit a lot more cans on a shelf this way, and you don't have to worry about them falling over.
3. Make a DIY snack holder.
This DIY vertical bag organizer by Christy of 11 Magnolia Lane was inspired by the snack displays at the grocery store. All you need is a skinny piece of wood, curtain clips, and some glue.
4. Use drawer organizers as spice racks.
Ashley over at Domestic Imperfection hung wire drawer organizers to create a home for spice jars. This idea and the one above leads us to a bigger takeaway: That little space between the shelves and the door jamb (in a closet pantry) can be put to good use.
5. Put lazy Susans in the corners.
Don't let food get lost in those dark back corners of the pantry! Copy Heidi from Honeybear Lane and use a lazy Susan to keep things in rotation. Get it?
6. Attach wheels to crates.
Jen from I Heart Organizing put castors on a wooden crate in order to make items at the bottom of the pantry easily accessible. The crate is ideal for produce because the slats allow air to circulate around the vegetables, but this would also work well for heavier bulk items like bottles of water, dog food, and more.
7. Label everything.
There's one thing all organized pantries seem to have: a labeling system. This way, you can find everything you need at a glance. You don't even need a fancy label maker. Elsie at A Beautiful Mess just uses paint pens, which come right off in the dishwasher.
8. Use tension rods to organize serving platters and pans.
Leave it to Martha Stewart to come up with the best way to organize oversized cutting boards, sheet pans, and serving platters. A few tension rods create customizable cubbies to keep things standing up.
9. Add a rolling cart.
Store all of your I-use-these-every-day staples on an easy-to-wheel cart that can be stationed anywhere you need it. This way, there is no need to go back and forth to the pantry a million times. All your essentials can be rolled over to be within arm's reach.
10. Use all the baskets!
When all else fails, just use baskets to group like with like. It will help you stay organized and make for a sleeker-looking pantry. This before and after on Classy Clutter is proof.
What smart pantry organizing hacks do you use?
Kitchn supports our readers with carefully chosen product recommendations to improve life at home. You support us through our independently chosen links, many of which earn us a commission.