The Best New Thing to Buy at IKEA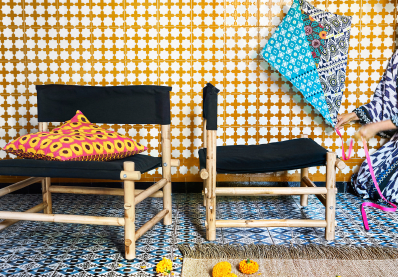 (Image credit: IKEA)
We have a hard time finding things we don't want to buy at IKEA. (How is it all so pretty and functional?) But because we sadly can't have it all, we constantly have to edit down our wish list to just our favorite things.
With the launch of IKEA's new line, JASSA, a limited-edition collection inspired by the color and craft of Indonesia and Southeast Asia, we are practicing our restraint. Here is the one must-have from the new collection.
Look at these hand-painted plates! They have so many things going for them. For instance, these stoneware plates are dishwasher- and microwave-safe. And they look like you maybe spent a cool hundo at Anthropologie, but the smallest plate (a side plate, which has a slight bowl shape to it) is just $4!
Available in said side plate, a 10-inch dinner plate, and a serving plate, you can set a table for four for less than $35. (Yes, technically we picked three things from the line, but we're counting them as one!)
Set these plates on a worn wood table for more of a rustic farmhouse look, or mix and match them with all sorts of colorful pieces to transport your table to Central Market in Kuala Lumpur. No passport required.
Of course, you could also pick up some woven baskets, a bamboo coffee table, and some insanely colorful pillow covers. But that might just be us going overboard again.
If you're interested, the rest of the line features brightly colored fabrics and furnishing made from natural, raw materials that combine modern designs and traditional craft methods.
The JASSA collection is coming to IKEA stores across the U.S. this month. Which pieces are your favorite?