The Best-Make Ahead Dinners of 2017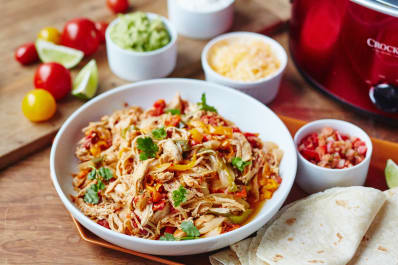 (Image credit: Lauren Volo)
For anyone who has a busy schedule — which, let's face it, is all of us — make-ahead meals feel like a total savior. With some upfront prep, you can feel good walking in the door at the end of a long day knowing that dinner is prepped, cooked, and just needs to be heated. And then there are those recipes that taste even better on the second or third day after the flavors have had a chance to really meld.
From chili and burrito bowls, to take-out inspired meals and casseroles, these recipes were the best make-ahead meals in 2017.
Add these hands-off chicken fajitas to your Sunday meal prep, and you have a leg up on Monday night's dinner. What a way to start the week!
With a little upfront work, this vegan tikka masala cooks all day while you work, and rewards you with a hearty meal better than takeout. It makes a lot, which means you've also got lunch figured out for a couple days.
Lentils are the perfect candidate for a meat-free chili. They cook up earthy and meaty, and there's no browning or precooking necessary.
If you're starting with a whole head of cauliflower, get a head start by ricing it, and even cooking it, along with the beans and corn, a day in advance. When dinner rolls around, all that's left to do is reheat and dig in.
This salad is even better when made in advance, and the fresh, tangy flavors of the dressing have ample time to work their way into the quinoa and veggies.
Add this salad to your next Sunday meal prep session. The vinaigrette will easily keep for a week, and you can count on the chopped veggies to stay fresh for several days.
If you make a habit of saving leftover pickle juice, good for you! If not, these chicken thighs are all the convincing you'll need. Brined in the leftover juice, they're infused with a bright and tangy, lightly spiced aroma that's totally irresistible.
If you struggle with lunch prep, you'll want to get this make-ahead recipe on your radar. It'll keep for several days in the fridge, so add it to your Sunday meal prep routine, and boom — you've got lunch for the week.
Since this recipe has the option to cook up in just an hour or two (super quick for the slow cooker!), I like to make it a day ahead, then reheat it and cook up a pot of rice the following night.
Here's one to keep on the sidelines for those nights you know you won't have time for dinner prep. The whole thing can be made in advance, stashed in the fridge, then popped in the oven right before dinner.
I didn't think this savory-sweet stew could possibly get any better — then I tasted the leftovers. Next time I cook it, I plan to make it a day in advance so the flavors have even more time to mingle together.