The Best German Liqueur You've Never Heard Of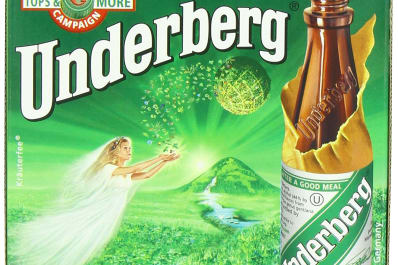 (Image credit: Amazon)
Everybody knows about Jägermeister, but what about other German herbal alcohols? As it turns out, Jäger is only the tip of the iceberg. Kräuterlikör, or herbal liqueurs, have been around since the middle ages when monks developed alcoholic concoctions to combat various ailments. Some people actually liked the medicinal taste and a tradition was born.
With bartenders casting a glance around the globe for the next big thing in cocktails, I'm betting German bitters are on the verge of an international renaissance.
In the meantime, there's Underberg.
What Is Underberg?
Underberg is an herbal bitters with a strong licorice flavor that has been going strong since 1846 — and it's easy to see the appeal. The drink is packaged in individual single-shot bottles with a small green top, wrapped in paper. It's worth noting, however, that in Germany, the cute packaging isn't "artisanal" so much as "down-market"; it's found next to the cash register at supermarkets, with the chewing gum.
Still, the miniature bottles are rather adorable and then there are the potential health benefits of popping one back after you've eaten too much schnitzel and potato salad. Apparently it's an effective digestif, although a certain ambivalence about the health-giving properties of exists. That's because the health benefits of Underberg are, well, questionable. Underberg was almost disallowed from advertising using the slogan "Worldwide in the service of wellness!" because the herbal bitters clocks in at 44 percent alcohol. Yep, it's basically fire water.
Nonetheless, some remain adament. "I am absolutely convinced that it is very healthy," a friend insisted when I asked about the popular brand. And, it can't hurt to try, right?
How to Drink Underberg
The label says that Underberg is meant to be taken "all at once and quickly," and the down-the-hatch method is definitely the most prevalent way of drinking this potent stuff — but it's not the only way.
I have heard of bars that serve the bitters in a stemmed, sipping shot glass, and, because American-style bitters can be surprisingly hard to come by in Berlin, I've grown quite fond of making a Manhattan with half a shot of Underberg in place of Angostura or Peychaud's bitters. Yes, yes, I know; it breaks Underberg's "all at once and quickly" rule, and doubling down on the bitters injects some chaos into the classic Manhattan formula, but it's not bad at all. Try it; you might like it.
Where to Find Underberg
You can find Underberg at specialty shops and behind the bar in many U.S. cities, especially in places that have had a lot of German immigrants over the years. You can also buy it online at, you guessed it, Amazon.
Kitchn supports our readers with carefully chosen product recommendations to improve life at home. You support us through our independently chosen links, many of which earn us a commission.