The 5 Best Food Finds from Oprah's Favorite Things List This Year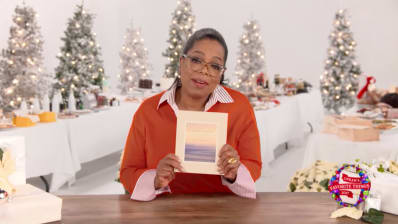 (Image credit: O Magazine)
Oprah Winfrey has been sharing her "Favorite Things" for 20 years, and now they can all be purchased on Amazon. She's just revealed her 2017 selection, and the list is full of Oprah classics like fuzzy slippers and cashmere sweaters, and there are also a ton of really great food items and tools on her radar. Some of them are a bit extreme — she loves a $69 modular bento box that looks like three pieces of Tupperware in a cute carrier, and a $110 chicken pie — but Oprah has a gift for making people want things.
Here are the five best food things among Oprah's favorites.
Oprah's choices tend to be luxurious and extraordinarily expensive, but this one is accessible and awesome. It's a set of seven different bottles of hot sauce, packaged together to look like a giant bundle of dynamite. The collection includes cayenne, garlic, garlic herb, chipotle pepper, smoky Bourbon, whiskey habanero, and the insanely spicy ghost pepper hot sauce. Everybody must know someone who would love to get this as a present.
"If they love hot sauce, they're gonna love you!" Oprah said. "That's why it's my favorite."
This thing is brilliant. You just pour any kind of frozen fruit into it, and in just a few minutes it churns out something with the consistency of soft-serve ice cream. I have a toddler who is obsessed with eating only cold foods, and she is going to lose her mind over this thing.
The fact that there is a $50 box of blueberries on this list is further proof that Oprah can convince people to do anything. To be fair, it's a five-pound box, and they're pretty special blueberries. They're hand-picked wild blueberries from Josh Pond on the coast of Maine, and they come from a low-bush variety of wild blueberry that can't be planted. They're harvested by hand first thing in the morning to prevent bruising, and they're frozen within 24 hours of being picked.
Wild blueberries are supposed to have more antioxidants and less sugar than planted blueberries, and they contain less water so they're firmer and have a more concentrated "blueberry" flavor. Oprah likes to use them in pancakes, yogurt, and salads. Or she makes them into sorbet, possibly with that Gourmia Frozen Dessert Maker. I didn't think this was possible, but somehow Oprah just convinced me to spend $50 on a box of frozen blueberries.
Oprah eats $50 blueberries, but she calls these English muffins her "greatest extravagance." They come from Model Bakery in Napa, and she has them flown to her home because she says they're just the best English muffins in the world. Oprah loves these muffins so much, they are one of the rare items to grace her "Favorite Things" list twice. A pack of six is $14, or 12 muffins and a jar of preserves is $40. The recipe for the English muffins is also included in the Model Bakery Cookbook, so you could just get that and try to make your own.
This dinner from Katz's Deli is a very kind gift for any homesick former New Yorkers on your gift list. It comes with matzoh ball soup, Katz's famous hand-sliced pastrami and corned beef with pickles, New York deli rye and mustard, and either chocolate or cinnamon babka for dessert. It's a big splurge, but it's cheaper than a trip to New York.
Check out Oprah's full list of Favorite Things here.
Kitchn supports our readers with carefully chosen product recommendations to improve life at home. You support us through our independently chosen links, many of which earn us a commission.