The Best Cleaning Products Our Readers Can't Live Without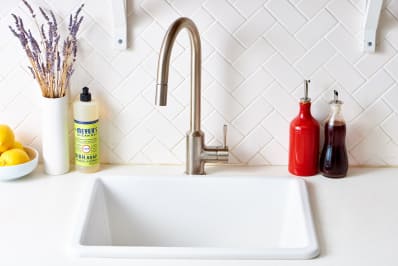 (Image credit: Joe Lingeman/Apartment Therapy)
We recently reached out to our readers to ask what their favorite cleaning product are — and, man, they're a passionate bunch! While there seems to be a divide between the natural-cleaner people, the make-your-owns, and "it ain't clean unless it smells like bleach" folks, we're going to go the non-partisan route here and list the biggest crowd favorites.
In no particular order, here are the 10 best cleaning products our readers can't live without.
1. Vinegar

Our readers love to pull this out of the pantry to use on their kitchen surfaces!
"I love it for cleaning in general, including disinfecting cutting boards, cleaning the coffee maker and dishwasher, and more." — Sherrill Croasdale
It doesn't get more convenient than these pre-soaked wipes when it comes to cutting grease and disinfecting.
"I use them on my kitchen counters, greasy stove, doorknobs, and more." — Esmeralda Speakman
This concentrated cleaner is plant-based and toxin-free, and readers love the infusion of essential oils.
"Hands-down the best cleaner ever!" — Julia Ostrander
People especially love the scents from this everyday cleaner.
"It makes my home smell amazing and I don't have to worry about my cats because it's all-natural." — Kate Starkenburg
This kitchen spray cuts grease and kills 99.9 percent of germs.
"I use it for the sink and anything that chicken or other raw meats may have touched." — Lynne Aversa
Everyone has their favorite scent for this spray, which you can use all over the kitchen.
"It works like magic every time." — Patricia Sulzmann
This cleaning powder is great for deep-scrubbing jobs, and it practically has its own fan club.
"The can says 'once tried, forever used' and they're not exaggerating!" —Patricia Spurles
The only paper towel brand mentioned over and over again.
"I always say they'll bury me with my roll of Bounty and Windex spray bottle in hand." — Lisa Garcia
The number-one dish soap from our commenters, who say it's not just for dishes, but also for stovetops, cabinets, and more.
"It's the best degreaser I've ever used." — Julie Taylor
These disposable foam-style scrubbers are a favorite for removing tough stains and grease. Note: Norwex is a cleaning company that sells its products through a network of consultants, so you'll have to find someone.
"I use them for everything." — Tina Binding
And a few other favorites (again, in no particular order)
Lemons
SOS Pads
Lemi-Shine
Pine Sol
Dr. Bronner's Soap
Babyganics All Purpose Spray
Fabuloso
Comet with Bleach
Alcohol
Boiling Hot Water
Caldrea Multi-Purpose Cleaner
Williams-Sonoma Dish Soap
Victorian House Finish Rejuvenator
Krud Kutter
Mr. Clean Magic Erasers
Norwex Cloths
Branch Basics
Scrubbing Bubbles
Simple Green
H2O Cleaning Products
Good Home Company Sprray Cleaner
Lysol Disinfectant Spray
Orange Oxygen
Indigo Zum
Soft Scrub Bleach Gel
Oxygen Orange
Sheila Shine
Bounty Paper Towels with Dawn Dishwashing Liquid
Scotch Brite Pre-Soaped Rescue Pads
Did you spot any of your favorites on this list? Share your go-tos in the comments!
Kitchn supports our readers with carefully chosen product recommendations to improve life at home. You support us through our independently chosen links, many of which earn us a commission.