The 6 Best Ways to Use Your Slow Cooker in the Summertime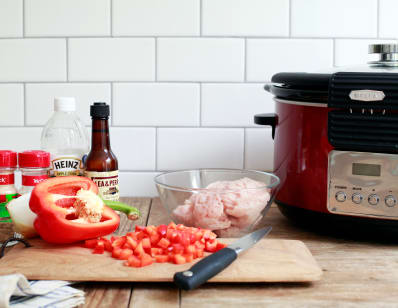 (Image credit: Diana Yen)
While you might associate the slow cooker with colder months (the stews! The chilis! The meats!), it shouldn't collect dust the second it gets hot out. In fact, it can save you a lot of time and won't heat your kitchen up. That's why we asked our readers to share their best recipes and ideas for using the slow cooker this summer. Here are six smart ideas to inspire you during the coming months.
1. Delicious Breakfasts
I use it year-round, for all meals. Breakfast, cinnamon rolls are great. – Harp77
When the weather is very hot I will sometimes use it to make granola, because we count on having homemade in the house. We don't like the texture of this type as much as the oven kind (slow-cooker granola is less clumpy, more tiny individual pieces), but it's a good compromise. – RebeccaABC
(Image credit: Diana Yen)
2. Pulled Meats
I try to use mine at least once a week, especially during the summer! I use it to cook up cheap pork butts that are used for sandwiches, enchiladas, and taquitos. I also batch cook split chicken breasts, where the shredded meat can be used in quick pasta dishes or on salads. – Unlovedpoet
I also do shredded taco chicken and "refried" beans (separately) in the slow cooker, and then make a large batch of burritos for the freezer and microwave them for quick lunches or dinners. – amym1
3. Potato Salad
I cook potatoes in the Crock-Pot for the old summer staple, POTATO SALAD! – Aprulz
4. Easy Freezer "Dump" Meals
Freezer "dump" meals! We're having beef curry today, and instead of it cooking on my stove for over an hour — and steaming up my kitchen — it's simmering in the slow cooker all day. Best part is, I didn't have to do any prep work this morning because it was a freezer meal. Woke up, threw a liner in the crock pot, dumped a bag of thawed curry in, and called it a day. – Michele Boyd
5. Seasonal Fruit Jams and Butters
6. Take It Outside
I set it on the side porch or in the laundry room. Being able to cook outside without firing up the grill makes it more likely that I'll eat healthy — even in the south Georgia heat and humidity. – SisterCrow
I take mine sailing. I latch the lid and put it in the sink so when we heel it stays put. Then when we are back at the dock, we have a hot meal. I make everything you can think of in it. – Cindy Betker Wilson
We use our slow cooker for everything! We keep hot dogs and hamburgers warm until lunchtime, as each batch comes off the grill. – Leika Lewis Cornwell
I do BBQ pulled pork in mine. But here's the real magic — move your Crock-Pot to the garage, or outside so it doesn't heat up your counter area. When it comes to keeping the house cool, every little bit helps. – Chris Locke
See More Ideas in the Comments on These Posts: How Do You Use Your Slow Cooker in the Summer? and on Facebook.