12 Tiny Towns with Exceptional Eats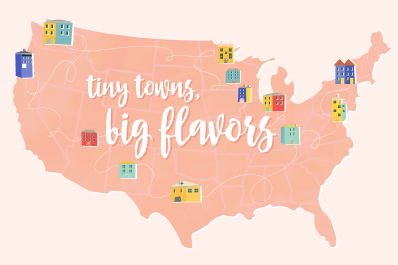 (Image credit: Hallah/Shutterstock; Graphics: Susanna Hopler)
Do you travel for food? Yes? We thought so. We also imagine that the destinations that come to mind when planning a culinary trip are cities like New York City, Chicago, Los Angeles, and San Francisco (i.e., big cities with big food scenes and a big price tag).
But allow me to make a case for the tiny towns across America, places with restaurants that are churning out exceptional eats for their 5,000 or fewer residents. Often these eateries feature local food for a fraction of the cost and the same high standards.
This isn't to say that big cities aren't worth the cost, but it's possible to save some pennies and eat good food. To help you jump-start your research, below is a list of a dozen tiny towns with exceptional eats.
12 of Our Favorite Small Food Towns
1. Foster, WI (pop: 95)
Where to eat: Foster Cheese Haus
Marked by a "CHEESE" sign peeking over I-94 in west central Wisconsin, Foster Cheese Haus makes some of the best pizza in the state. Pies make use of local cheeses and herbs grown on site and are cooked in their wood-fired pizza oven. Grab a bottle of beer out of their massive walk-in beer "cave" to complete the meal.
2. Paoli, WI (unincorporated)
Where to eat: Paoli Bread and Brat Haus
Just outside Madison, Wisconsin — a food mecca in its own right — is the too-small-to-be-incorporated town of Paoli and the aptly named Paoli Bread and Brat Haus. There you can find bread made from scratch with locally milled wheat, house-smoked meats, and — since pairing up with the a local microbrewery — organic suds. And what else, really, do you need?
3. Sawyer, MI (pop: 1,344)
Where to eat: Greenbush Brewing Co.
The hub of tiny Sawyer, Michigan, Greenbush Brewing Co. proudly serves some of the best beer in the state. It also has better-than-Texas brisket, cast iron pan mac and cheese, and fried chicken (with coleslaw and cornbread on the side).
4. Kanab, UT (pop: 4,343)
Where to eat: Sego Restaurant
Tucked inside a resort in a small desert town near Zion National Park, Sego is often used as a jumping-off point for adventure-seekers — or as a reward at the end of a journey. Sourcing is hyper-local and plates are smaller, tapas-style portions best shared with a group of good friends. The cocktails are also excellent.
5. Chadds Ford, PA (pop: 3,170)
Where to eat: Hank's Place
Started by a Greek immigrant, Hank's Place offers classic homestyle diner cooking with a twist. You can't go wrong with breakfast staples, but many have also commented that Hank's makes some of the best Greek food they've ever had.
6. Mazama, WA (pop: 190)
Where to eat: The Mazama Store
This traditional Western general store on the edge of the North Cascade mountains happens to have some of the best eats in the region. Their wide selection of baked goods are made with locally milled flour, and sandwiches use as much local produce as possible.
7. Grand Marais, MN (pop: 1,341)
Where to eat: Angry Trout
No trip to the North Shore of Lake Superior is complete without a visit to the Angry Trout. Set in an old commercial fishing shanty on the edge of Grand Marais Harbor, the restaurant is committed to organically and sustainably raised produce, meats, and, of course, fish.
8. Llano, TX (pop: 3,324)
Where to eat: Cooper's BBQ
Located in the self-described BBQ capitol of the world, Cooper's is likely the king. Your journey begins with picking your meat of choice from the grills out front — ribs, brisket, pork, sausage, chicken — and meandering inside to pile on an array of sides. Once the plate is complete, head on over to the communal tables, grab a slice of white bread, and enjoy.
9. Madrid, NM (pop: 149)
Where to eat: The Hollar
This restaurant's moniker gives a clue to both where it's located and the cuisine. Hollar is a Southern term for "a small valley between mountains," an apt description of Madrid's location, as well as a nod to the Southern cuisine. Best known for fried green tomatoes, fried chicken, grits, and buffalo burgers, you can also get an exceptional salad.
10. Slade, KY (pop: 303)
Where to eat: Miguel's Pizza
Any rock climber who's been to the Red River Gorge knows of, and has likely eaten at, the legendary Miguel's Pizza. A number of the toppings are grown in the garden out back (right next to the climbers-only camping compound), and Miguel's famous dough is made fresh every morning. After a day spent climbing or hiking, there is little better than an Ale81 and a slice.
11. Reedsport, OR (pop: 4,085)
Where to eat: Harbor Light Restaurant
With fish bought off the dock and produce from local farmers, all washed down with Oregon wines and microbrews, one can truly experience the taste of Oregon at Harbor Light Restaurant. Their berry-stuffed French toast is also excellent.
12. Lake Placid, NY (pop: 2,465)
Where to eat: Liquids and Solids at the Handlebar
Lake Placid is a hot vacation spot for both summer and winter, making it the most well-known small town on our list. What makes Liquids and Solids stand out is a constantly changing menu that showcases whatever local produce is available. And don't forget to sample some of their libations either, whether it be a crafted cocktail or tap beer.
What's your favorite small town for good food?