The 10 Cuts That Help Our Readers Save on Groceries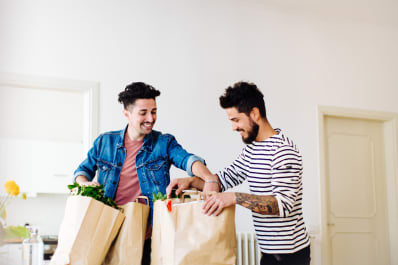 (Image credit: Sofie Delauw/Getty Images)
When we reached out to you guys on Facebook to see what cuts you make to your grocery lists to save money, a few of you pushed back, saying that you'd rather scrimp elsewhere — on dinners out, movies, or your Starbucks habit — before shaving your grocery bill. Others said there are a few small changes that can save you some money without making too big a sacrifice.
Here are 10 cuts that have helped our readers save on groceries.
1. Meat and seafood
Hundreds of people agree: Meat and seafood are the most expensive fresh foods you can by. Many of our readers suggested eating more vegetable-based meals, or using cheaper cuts of meats for meals like stews, chilis, or enchiladas where you can mix in beans or other proteins without missing the meat.
2. Convenience foods
Forget anything pre-chopped, pre-marinated, or ready to heat and eat — when someone else does the work for you, you're paying extra. Even foods like pre-sliced deli meats and salads hit the cut list. Same with frozen french fries (buy the potatoes), instant oatmeal (get the regular kind in bulk), and salad mixes (buy a head of lettuce).
3. Disposable non-food items
Paper towels, single-task cleaners, wipes, sandwich bags, name-brand detergents, and non-essential toiletries are on the pricey end of your grocery budget. Find ways to work with reusable or homemade items instead.
4. Treats and snacks
Whether your tastes run savory or sweet, snack foods (see: chips, dip, beef jerky, crackers, sugary cereal, candy, cookies, and baked goods) are easy to deem non-essential.
5. Packs and mixes
If you want a sweet treat (see #4), skip the bakery aisle and boxed mix and make it from scratch. If you want tacos, don't buy taco seasoning; mix your own. If you want Mediterranean herb-infused quinoa, hit the cabinet instead of buying a box.
6. Condiments
Fancy mustard, organic mayo, teriyaki, Worcestershire, and A-1 — they're all out. Use what you already have on hand until there's space (and money) for these extras.
7. Out-of-season and expensive produce
We may be used to having berries in the middle of winter, but it's expensive to get them to the store! Cook with local and in-season fruits and vegetables to stick to fresh produce that's not too pricey. And avoid the priciest items, like avocados, artichokes, and even some apples, in favor of their less exotic cousins.
8. Beverages
It doesn't matter whether you call it soda or pop, it's a non-essential. Juices, soda waters, teas, and fancy coffees get cut, too. And yes, that includes alcohol.
9. Name-brand items
Sometimes you don't need to eliminate an item from your grocery list — you just need to switch to the generic brand.
10. Organic produce
While some people prefer to buy all organic all the time, many of you said you'll buy "regular" versions of bananas, avocados, onions, and more.
What about you? Anything else that you cut out when you're grocery shopping on a budget?