The 10 Best Kitchen Items To Buy at IKEA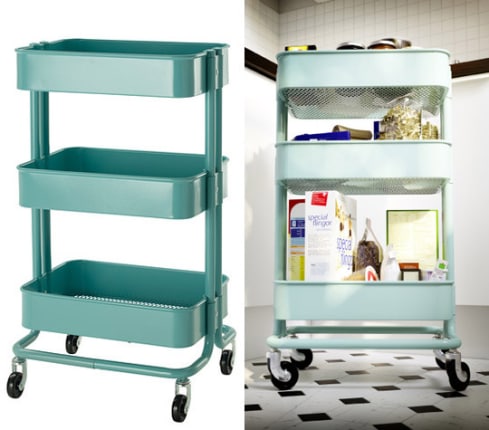 Where would we be without IKEA? It's hard to talk about setting up a kitchen without bringing the Swedish megastore into the mix. IKEA continues to be a terrific resource for affordable kitchen tools and products, and while it's hard to pick 10 favorite items, we did our best. From a new kitchen cart (in turquoise!) to dirt cheap bag clippers, from basic glass storage jars to a hang-it-anywhere metal rail, these 10 items are tried-and-true purchases for any kitchen:

TOP ROW
1 RÅSKOG Kitchen Cart, $49.99: This arrived in IKEA stores just this past year, and it's already becoming a cult favorite. It's on wheels, which means you can roll it around as needed, and it's narrow enough to fit in tight spaces.
2 TEKLA Dish Towels, $0.79: As we wrote last week, these towels double as dinner napkins for a rustic French look. Buy a few dozen and replace them as needed. You can afford to at this price!
3 KORKEN Glass Jars with Lids, $2.99 - $3.00: I have a dozen or more of these glass jars in my kitchen. They're super cheap, durable, and terrific for holding pantry staples. 
4 GRUNDTAL Rail, $9.99: So basic yet so versatile. The Grundtal rail and the wall shelf ($14.99) are one of our go-to kitchen storage solutions.
5 BLANDA BLANK Serving Bowl, $4.99: This stainless steel bowl is a workhorse. It's my go-to bowl for mixing batter or serving salads.
BOTTOM ROW
What are your favorite kitchen products and tools from IKEA?
Related: IKEA 2013 Catalog Preview: Trends and Inspiration
(Images: IKEA)