Ten Things I Love: Meg's Family Kitchen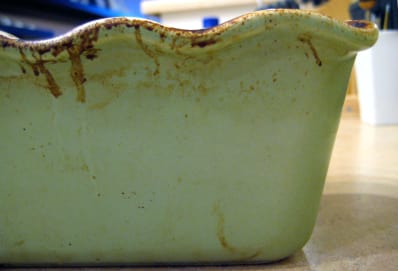 In last Thursday's email (signed up yet?) I showed you ten things I love from my mother's kitchen, and I asked you to show us ten things you love in your own kitchen. Many of you have replied, and we've been showing you some of our favorites!
Here's Meg's kitchen, which is rich with the influence of marriage and family.
1. Emile Henry bread loaf pan. A sweet wedding gift that makes me feel like an artisan whenever I make bread.
2. Stainless steel mixing bowls (with airtight lids) great for everything, from mixing pancakes with my toddler to saving cold treats in the freezer.
3. Victorinox knives. They're inexpensive and amazing.
4. Vintage-inspired apron. When I put it on I feel like I'm wearing a pretty little dress. One I can get messy.
5. Microplane zester. I use this constantly to zest lemons or other citrus, or to grate Parmesan cheese.
6. A drawer full of spices. My mother-in-law keeps her spices in a drawer in her kitchen, and that was the first I'd seen it. This beats any rack I've seen.
7. Big flat spatula. Perfect for crepes, pancakes, tortillas, and cookies.
8. Braun hand mixer. Covers our blender needs, from smoothies and milkshakes to purees and soups.
9. Fruit bowl. My husband picked up this retro-style fruit bowl from Walmart. It beckons me to fill it with fresh fruit.
10. Mr. F, our 4.5-year-old goldfish. My husband made his Plexiglas home. He's one excellent sous-chef.
Thanks, Meg, for sharing your kitchen with us.
Related:
• Ten Things I Love From My Mother's Kitchen
• Ten Things I love: Brooke's Vintage Collections
• white-and-pink-077289">Ten Things I Love: Alicia's Spicy Black & White (and Pink!)
• Ten Things I Love: Janine's Spoons (and Husband!)