Ten Things I Love: Rachel's Mother's Kitchen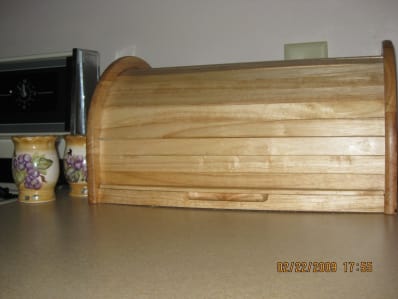 Sara Kate's initial post about ten favorite things in the kitchen was actually prompted by a visit to her childhood home and her mother's kitchen. Rachel's list of favorite things is also from her mother's kitchen! And can't you tell? Who except a mother could keep such an amazing drawer of Tupperware lids? Read on for more of Rachel's mother's kitchen.
Rachel says:
I was at my mother's house on Sunday afternoon and was showing her your website, and telling her how much I love it, when I found the "favorite things" project. Hope you enjoy the pics.
1. One of TWO breadboxes in her kitchen...
2. Coffee cupboard! Always a great selection to choose from.
3. Custom pull out cupboards (made by my grandfather)
4. Cute ambient lamp
5. ANY size tupperware lid you could ever need
6. Perfect mini skillet
7. The "rain" option of her new sink faucet
Thank you Rachel!
(Images: Rachel)