Ten Most-Used: Emma's Favorite Kitchen Tools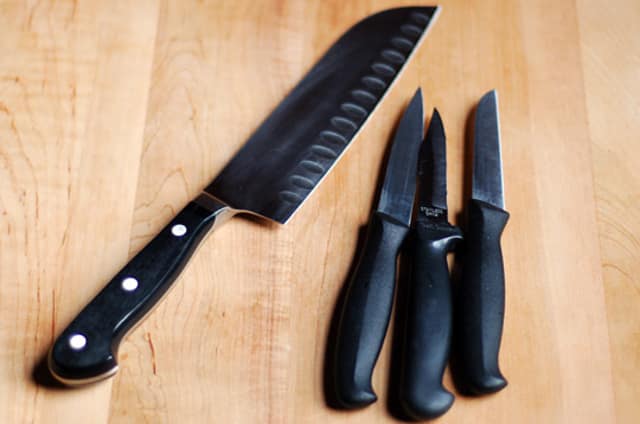 Faith wasn't kidding - it's really hard to pick out your ten most-used kitchen tools! Can we really say that our sheet pans get more play time than our favorite whisk? Or our mixing bowl more than our cutting board? Still, we managed to narrow it down, and here they are!
Really, what made this exercise so hard is that these tools are the things I use automatically, without thinking about it. I remember the knife used to cut the vegetables, but not the bowls I use every single day to put them in. Same with the measuring spoons that I grab without looking.
TOP ROW
• 1 Knives - My santoku chef's knife hardly ever makes it into a drawer because I'm constantly washing and re-using it. And those three paring knives are in constant rotation!
• 2 Cutting Board - This cutting board is about 24 inches long and 18 inches high. Big, in other words! I like to have a lot of room to chop, scrape, and scoop ingredients.
• 3 Measuring Spoons and Cups - Specifically, tablespoon and teaspoon measuring spoons, and one cup and half cup measuring cups. Not only do I use these for actually measuring ingredients, but also for scooping up just a bit of salt or portioning out the meal onto individual plates.
• 4 Prep Bowls - I use these small-sized bowls for holding ingredients as I prep them. They make it easy to keep everything organized and transfer ingredients from my cutting board to the oven.
• 5 Instant Read Thermometer - I'm temperature obsessed (one food-safety course will do that to you!). I like this particular thermometer because the face is very easy to read and the temperature sensor is at the very tip, making it easy to get an accurate read.
BOTTOM ROW
• 6 Corkscrew - I'm of the opinion that a splash of wine or beer in your food and another glass for dinner is essential for a good meal. I like the simplicity and functionality of this simple side-wing corkscrew.
• 7 Wooden Spoons - I keep these spoons all together in an old vase next to my stove, and they're so old that the wood feels like velvet.
• 8 Reusable Parchment - My mom gave me a packet of these as a graduation present and I've used them ever since. They're coated with a teflon-like substance that makes them nonstick, flexible, and re-usable. Almost everything that goes into my oven gets baked on one of these.
• 9 6.5-quart Dutch Oven - Like my chef's knife, this pot almost never gets put away. If it's not in the drying rack, it's on my stove with something cooking inside! I use it for everything from sautéing a few vegetables to making a big batch of soup.
• 10 Baking Stone - My baking stone lives in my oven (in fact, taking this picture is the first time it's been out of my oven since I moved into this apartment!). I like the even heat it puts out and I cook everything on top of it. It's stained from years of sliding pizzas and loaves of bread on and off.
Any surprises in my list? What does your top ten look like?
Related: Good Idea: Sharing Kitchen Equipment!
(Images: Emma Christensen)