Temporary Living Situations: Bringing the Absolute Essential Kitchen Equipment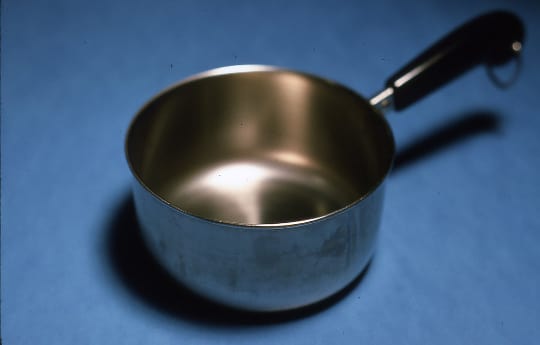 I'm moving this summer and will soon be living in temporary housing for a month or two. My fiancé and I can take a few essentials, but the rest of our house - and kitchen! - will be packed away in storage during this time. Guess which truly essential kitchen equipment I'll be taking with me!
We know that the temporary housing does have a kitchen and this kitchen should theoretically be stocked with "essentials." But we have a feeling that a rental agency's idea of essentials and our idea of essentials might be a little different, so we're hedging our bets!
Here's what we've decided to take so far:
• Chef's knife
• Paring knife
• Cutting board
• Measuring spoons
• Measuring cups
• Liquid measuring cup
• A 6-Quart Dutch oven
• A 12-inch cast iron skillet
• One loaf pan
• One cookie sheet
We're assuming (hopefully correctly) that the temporary housing will have mixing spoons, a spatula, a whisk (or at least a fork), a can opener, a colander, a few mixing bowls, and a sauce pan of some sort.
We've tried to go through everything we normally cook, and we think that we're covered with this list of essentials. The only things we might add are a 9x13 casserole dish and a strainer, but right now they're with the non-essentials.
Is there anything you'd add to this list? Or something you think we could take off?
Related: Good Question: Help Me Downsize My Kitchen Equipment!
(Image: Flickr member Nate Steiner licensed under Creative Commons)