Tech in the Kitchen: 6 iPad & iPhone Apps for the Home Cook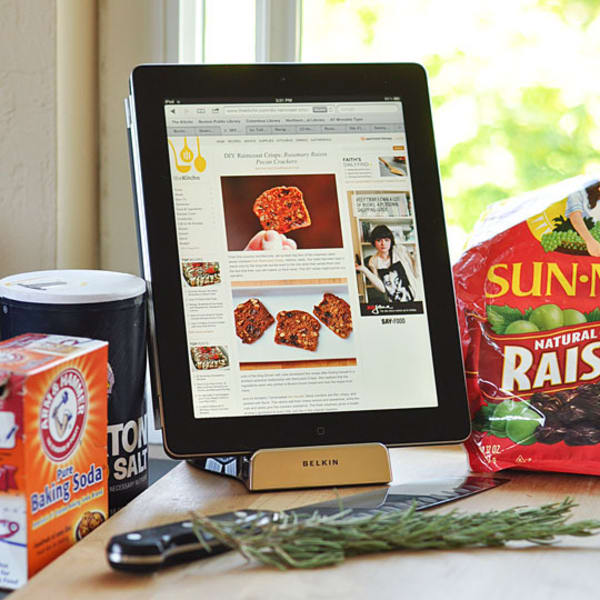 Overwhelmed by the amount of cooking apps out there? Join the club. With thousands of options in the various app stores, it's tough to find where to begin.
Here are six apps that have been giving a helping hand in my kitchen. And this is especially good timing if, like me, you've just updated your iDevice to iOS 7 and are taking a fresh look at your app arrangement in those freshly neon-ified folders.
Using smartphones and tablets in the kitchen can sometimes be a precarious thing. How many times have I spattered my iPad with something gooey, like an idiot? (Too many.) Nevertheless, it's a useful tool and with an overflowing, unorganized folder of bookmarked recipes on practically every device, I'm convinced there must be a great tech solution out there. Here are six that have been helping me pull things together.
How to Cook Everything - Mark Bittman's general reference cook book is now available for purchase as an app. For $9.99 the full app offers 2,000 recipes, and 400 how-to-illustrations. With the Essentials version (the free version, that is!), users have access to 102 recipes and much fewer kitchen basics. Our recommendation: start with the free version and use the preview function to see if you'd like to upgrade. Related: Check out How to Cook Everything Vegetarian as well. $9.99 for iPhone and iPad


Big Oven - Boasting over 250,000+ recipes, Big Oven allows users to make recipes portable, searchable, and scalable. With a free account, users can import favorite recipes from online (or type one in), make notes, add reviews, and create automatic grocery lists. Free for iPhone and Android.


Blush - Ever find yourself standing in the wine shop, trying to recall that fabulous sauvignon blanc you had last week? Enter Blush, an app to help find and remember the wines you love. Find wines by price, varietal, rating, region, or proximity to your location (yes, really). Then, scan barcodes or snap a photo of the label to save it for later. Free for iPhone.


Seafood Watch - Was it bluefin or yellowfin tuna that the news recently recommended avoiding? With Monterey Bay Aquarium's Seafood Watch, browse both sushi and seafood options by three categories - avoid, best choice, or good alternative - to help make the most responsible choice whether cooking at home or eating out. Plus, search the in-app "Project Fishmap" for ocean-friendly seafood sources in your neighborhood. Free for iPhone and Android.


Evernote Food - Sifting through a heap of hastily bookmarked recipes on several devices? Enter this food centric version of the popular save-it-for-later Evernote app. Explore recipes saved by others, organize your own favorites into the "my cookbook" section, and record memorable meals with a photo to refresh your memory. While this app is a large time investment up front, after setup the system works as a great home for online recipes. Free for iPhone, iPad and Android.


The Professional Chef by the Culinary Institute of America - With a hefty price tag, I've yet to try this one. Word on the street is that this "bible for all chefs" provides countless how to lessons with detailed photos and videos on everything from carving a roast duck to cooking various parts of a pig. $49.99 for iPad and iPhone.
What are your favorite apps for the kitchen? Have you tried the Culinary Institute of America's big app?
(Images: Emma Christensen; Kate Gagnon)