The Most Popular Archer Farms Grocery Foods at Target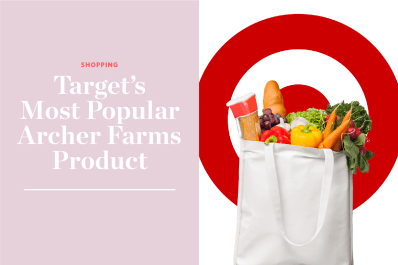 (Image credit: Target/Design: Susanna Hopler)
If you're like me, you go to Target for the chic, affordable home goods, the great deals on kids' clothes, and the sales on things like laundry detergent and cat litter. In short, you go for just about everything but the food. So you might be as surprised as I was to find out Target has over 500 store-brand grocery items under the Archer Farms label, from whole turkey to panang ginger curry simmer sauce. Plus, there are another thousand or so more items if you include its basic Market Pantry line.
That's a lot of food I've been ignoring. But, of course, there are a lot of people who haven't.
With that many products to choose from, Archer Farms must have plenty of devotees. So we asked Target representatives for a list of the 10 most popular Archer Farms items. The response was a litany of salty-sweet-chocolate-y snacks — and coffee. It was like peeking into the vortex of my cravings as I push my bright red cart down the aisles.
But of those guilty pleasures, what is the absolute, number-one most popular item? The one thing it seems all Target shoppers toss into their carts?
You might be wondering how something as basic as trail mix can blow every other item out of the water. Well, look at it this way — there are only five ingredients in Monster Trail Mix, and three of those are essentially candy: chocolate chips, peanut butter chips, and M&Ms. That means every single handful comes with a generous amount of the yummy stuff, and just enough peanuts and raisins to add an air of health. Of course this is the most popular item ever.
It's the kind of snack you buy for your kids and then eat most of on the way home. It's also the kind of snack that makes you wonder if you should save it for dessert. It's essentially a deconstructed candy bar.
As for the rest of the Archer Farms top products? They're mostly variations on the sweet-salty snack theme. And, yes, I tried them all. The double chocolate chunk granola was blah on its own, but an irresistibly grown-up version of Cocoa Puffs when splashed with milk. The cold brew coffee was mild, smooth, and easy-drinking, while the flavored coffees reminded me of being a teen in the '90s, walking past the Gloria Jean's kiosk in the mall. I can't say I'm a fan of flavored coffee, but if you are, try the light-roast caramel macchiato flavor.
And follow these links if you want to know which of the brand's other snacks, frozen appetizers, and desserts are worth picking up while you're shopping for a new blender or some Santa-themed throw pillows. It is prime holiday party time, after all.
Top Archer Farms Products At Target
Kitchn supports our readers with carefully chosen product recommendations to improve life at home. You support us through our independently chosen links, many of which earn us a commission.