This New Dairy-Free Talenti Flavor Sounds So Dreamy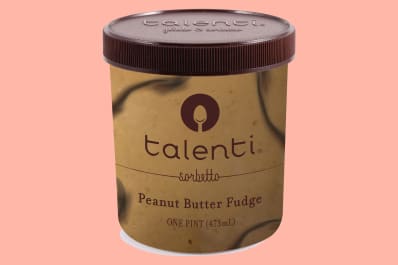 (Image credit: Talenti)
Ice cream lovers of the world have some exciting news to freak out about: Talenti just released four new flavors for spring, and they all sound delicious. And one of them — a decadent peanut butter fudge flavor — isn't so decadent at all. In fact, it's vegan.
Now, don't expect some sugary treat with the lightest hint of peanut butter flavoring with this sorbetto. This new flavor is made up of 30 percent real peanut butter, and has swirls of dairy-free fudge. It's the real deal.
According to Refinery29, which says this new flavor is essentially frozen peanut butter, there are no dairy-free milk substitutes of any kind either. So don't expect cashew or almond milk in the ingredient list either.
"We created a rich, creamy, milk-free peanut butter sorbetto with a decadent swirl of dairy-free fudge," teases Talenti on its website about the new flavor. "Turns out you don't need milk to be amazing and it's making all the gelatos jealous."
How does a sorbetto differ from a gelato and ice cream? Sorbettos are dairy-free, while gelato and ice cream contain ingredients like eggs, milk, and cream. The key difference between gelato and ice cream is that the former tends to have a higher ratio of milk. The differing concentration of milk, cream, and eggs in gelato leaves it denser than ice cream.
For those who do want some dairy-infused dessert, Talenti also has the following three gelato flavors launching: Vanilla Chai, Cinnamon Peach Biscuit, and Vanilla Blueberry Crumble.
And if you're looking for a lighter-tasting peanut butter blend with dairy, know that Talenti added Peanut Butter Pretzel Gelato to its lineup earlier this year. The company describes the flavor as "peanut butter gelato with a peanut butter ripple and chocolatey peanutty crunchy pretzel balls."