Sweet Cream and Sugar Cones from Bi-Rite Creamery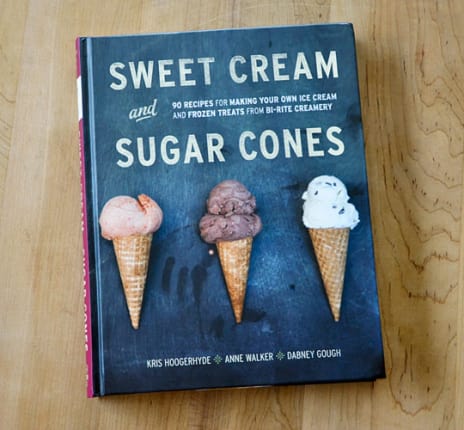 Waiting in a line that curves around the block is practically part of the experience when you go to San Francisco's beloved Bi-Rite Creamery. Luckily, you are usually with friends, or else you tend to make friends as you collectively wait your turn. The conversation meanders, as it will, but eventually it always comes back to, "What are you going to get?" For anyone who has waited in that line and then been forced to choose — oh, the agony of indecision! — this book is for you.
Quick Facts
• Who wrote it: Kris Hoogerhyde, Anne Walker, and Dabney Gough
• Who published it: Ten Speed Press
• Number of recipes: 90 recipes, including about an equal number of actual ice cream recipes and other related recipes for things like cones, sauces, marshmallows, and popsicles.
• Recipes for right now: Cherry Almond Ice Cream, Cookies and Cream Ice Cream, Balsamic Strawberry Ice Cream, Ginger Ice Cream
• Other highlights: I like that this book focuses not only on ice cream, but also the experience of eating ice cream. There are the photos of friends trading tastes from their cones and the picture of the two guys dressed as pints of Bi-Rite Creamery for Halloween. But there are also the recipes for building the ultimate ice cream sundaes with your kids, for the perfect little cookies to munch alongside, and for sauces to bedazzle any scoop just before you set it on the table. It's about creating the experience.
I also really appreciate that this book includes both very basic recipes for things like vanilla ice cream and mint chip ice cream as well as recipes for more esoteric tastes, like caramelized banana ice cream and basil ice cream. This gives first-time ice cream makers a place to start and ice cream nerds like me a place to go. (P.S. Yes, all your dearest and best-loved Bi-Rite Ice Creams are in the book. They held nothing back!)
• Who would enjoy this book? Anyone who wishes they had time, opportunity, and the bottomless belly to try every single Bi-Rite flavor.
Find the book at your local library, independent bookstore, or Amazon: Sweet Cream and Sugar Cones: 90 Recipes for Making Your Own Ice Cream and Frozen Treats from Bi-Rite Creamery by Kris Hoogerhyde, Anne Walker, and Dabney Gough
• Visit their website: Bi-Rite Creamery
Apartment Therapy Media makes every effort to test and review products fairly and transparently. The views expressed in this review are the personal views of the reviewer and this particular product review was not sponsored or paid for in any way by the manufacturer or an agent working on their behalf. However, the manufacturer did give us the product for testing and review purposes.
(Images: Emma Christensen)
Kitchn supports our readers with carefully chosen product recommendations to improve life at home. You support us through our independently chosen links, many of which earn us a commission.