I Tried Starbucks' Juniper Latte and It Really Surprised Me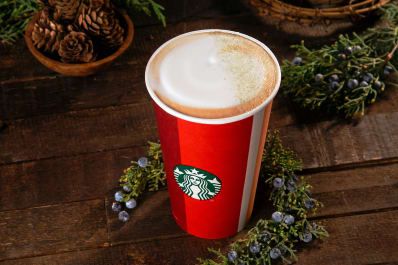 (Image credit: Courtesy of Starbucks)
In the realm of drink flavors, Starbucks isn't known for its subtlety. Think back to the green and purple Witch's Brew Frappuccino the company unleashed for Halloween to get an idea of what I mean. Even the Peppermint Mocha, my favorite among the Starbucks' holiday drink lineup, is a bit heavy-handed on the peppermint syrup.
So when Starbucks announced that the juniper latte would be available nationwide this year, I had my reservations. Would it taste like a handful of pine needles blended up with some steamed milk? After trying it for myself, I can honestly say that Starbucks nailed the Christmas-flavored coffee drink this time.
Let me start off by saying that yes, the juniper latte is herbaceous. I picked up more sage and pine than juniper syrup (the latte's main ingredient), which adds an earthy taste to the drink. It tastes how a Christmas tree smells: a little bit like tree bark, to be honest. But the flavor is just subtle enough that the herbal qualities of the drink pair with the coffee to make it taste richer and deeper. It's a drink that is entirely suited to winter and the holiday season.
One other problem that I've always come across with Starbucks' flavored drinks is that many of them don't taste very grown-up. That's probably due to the sugar content; so many of them rely on super-sweet desserts (like "caramel brulée" and "toasted white chocolate") for their flavors. The juniper latte avoids that trap altogether. It's just sweet enough to counteract the bitterness of the coffee, and although it's dusted with a so-called pine-citrus sugar, I didn't really taste that at all.
If you're all about embracing the holiday season with as much vigor as Starbucks, but you're tired of sugary concoctions that taste like they were made for kids trying coffee for the first time, you'll probably love the juniper latte. It's an understated nod to the holiday season (and Christmas trees) that won't send your blood sugar skyrocketing.
The Starbucks juniper latte is now available at all of the chain's locations around the country for a limited time.