Starbucks Just Released Three Glamorous Drinks for New Year's Eve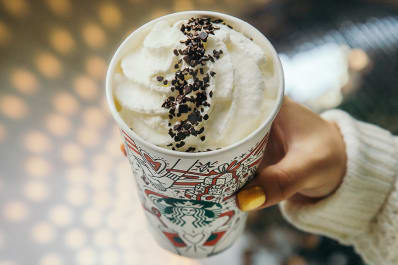 (Image credit: Starbucks)
Christmas is over, but that doesn't mean Starbucks is going to stop celebrating with fancy new limited-time holiday drinks. (Also, you can still get the Christmas drinks if your Starbucks has the specialty syrups in stock.) Just in time for New Year's Eve, Starbucks is introducing three brand new drinks for 2018, and they sound pretty amazing.
If Christmas is festive, cozy, and quirky like a Christmas Tree Frappuccino, New Year's Eve is more traditionally dazzling, rich, and sophisticated. Christmas is a fuzzy sweater with a snowman on it; New Year's Eve is a sequined dress and a YouTube makeup tutorial. That's why Starbucks is ready to kiss 2017 goodbye and jump into 2018 with its "Black and White Mocha" collection, which even sounds glamorous.
The Black and White Mocha is made with Starbucks espresso poured over a "silky swirl of white chocolate and dark mocha." It's mixed with steamed milk and topped with whipped cream and a festive line of sparkly chocolate "sequins."
For those who are into glamour but don't want the coffee, there's a Black and White Hot Cocoa made with the swirl of dark mocha sauce, white chocolate mocha sauce, and steamed milk. That one also gets the whipped cream and chocolate sequins.
The final member of the New Year's trio is a Black and White Mocha Frappuccino, which is made of a combination of dark mocha sauce, white chocolate mocha sauce, Frappuccino roast coffee, milk, and ice blended together. Of course, it's also topped with the whipped cream and chocolate sequins.
"The New Year is a time to celebrate," Starbucks beverage developer Erin Marinan says in a statement. "The Black and White Mocha collection is a festive way to ring in 2018, with a stripe of sparkly chocolate sequins to resemble a black tie."
The new drinks do sound extremely festive, and also very, very rich. Mocha-lovers will want to get in line. The new drinks are available now and will last through the first week of January, or until supplies run out.
Will you try Starbucks' new Black and White Mochas?