Of All the Top Canned and Bottled Iced Coffees from Starbucks, These Are the 5 Best Ones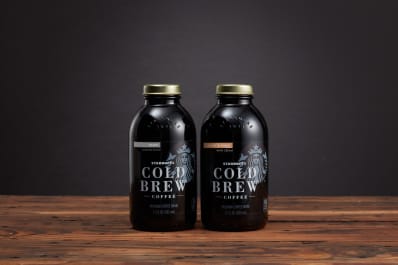 (Image credit: Courtesy of Starbucks)
If there's one thing Starbucks has in spades, it's choices. Let's see, do you want a caramel Frappuccino or a mocha Frappuccino? Whip or no whip? One pump or three? Oh, you just want black coffee? No problem. Want it brewed on a Clover or a siphon or maybe in a Chemex? And which café are you going to — the one on the northwest corner or the southeast corner? Or maybe the one up the street?
And that's just the coffee shops. The company's vast lineup of bottled and canned coffees is just as dizzying. Flavor options range from chocolate or honey to, yes, pumpkin spice. Some are spiked with energizing additives like guarana, or offer a wallop of protein. And even the plain, unsweetened versions come in two options: iced coffee and cold brew (and yes, there seems to be a difference).
With iced coffee season upon us, we decided it was high time to figure out which of these cool and caffeinated drinks are worth stocking up on. So we asked Starbucks to tell us which of their bottled and canned iced coffees were the fan favorites, then we gathered them all up for a taste test.
Here are our five top picks!
1. Bottled Cold Brew Black (Unsweetened)
Yes, it's just plain cold brew coffee, but it's really good. Very smooth, plus it's richer and rounder in flavor than the unsweetened iced coffee option. The coffee for the cold brew is brewed without heat, which likely accounts for its smooth flavor. It goes down easy, with no cream or sugar required.
Buy: Bottled Cold Brew Black (Unsweetened), $15 for six, 11-ounce bottles
2. Iced Coffee Medium Roast Unsweetened
Again, just plain cold coffee, but smooth and tasty. However, this one is a bit more acidic and less rich in flavor than the cold brew. We're not sure if it's the beans or brewing method that makes the difference, but it doesn't seem quite as "premium" as the cold brew.
Buy: Iced Coffee Medium Roast, at Target (see store for pricing)
3. Bottled Cold Brew Cocoa & Honey with Cream
Although Starbucks' bottled plain iced coffees are so smooth and mild they don't need any cream or sugar, the hit of cream and honey, plus a subtle hint of cocoa powder, turns this bottle into a cold coffee treat — not just a refreshing vehicle for caffeine. Plus, it's sweet (21 grams per 11-ounce serving), but it thankfully doesn't come off as tooth-achingly sweet.
Buy: Bottled Cold Brew Cocoa & Honey with Cream, $22 for six, 11-ounce bottles
4. Doubleshot Espresso & Cream
This was just as creamy and almost as sweet as the classic caramel Frappuccino below (just 1 gram of sugar less per ounce), but the espresso gave it a more robust coffee flavor. Think of this as a more "coffee-forward" Frappuccino. Plus, this one delivers more caffeine in a smaller package (110 milligrams of caffeine per 6.5-ounce can) and doesn't have the thickeners or artificial ingredients that other canned drinks often have — just espresso, milk, cream, and sugar (with some ascorbic acid as a preservative).
Buy: Doubleshot Espresso & Cream, $16 for 12, 6.5-ounce cans
5. Bottled Caramel Frappuccino Coffee Drink
Is it coffee or is it dessert? We weren't sure because this creamy elixir truly tastes like a melted coffee milkshake, or coffee candy in liquid form. In other words, it's crazy sweet. And, yes, the caramel flavor smacks of artificial extracts. But you know what? We're OK with it. Sipping this conjured up memories of our '90s teendom, when we'd pretend to be a sophisticate, picking out flavored coffee beans at Gloria Jeans at the mall, or sipping instant International Coffee scooped from a tin. Nostalgia is powerful, which is mainly why we actually enjoyed this guilty pleasure. But that might not work for everyone, and at 200 calories and 32 grams of sugar per 9.5-ounce serving, with just 75 milligrams of caffeine, this drink definitely falls into the dessert category.
Buy: Bottled Caramel Frappuccino Coffee Drink, $5 at Walmart
Do you have a favorite Starbucks canned or bottled coffee that you like to stock up on? Tell us about it in the comments below?
Kitchn supports our readers with carefully chosen product recommendations to improve life at home. You support us through our independently chosen links, many of which earn us a commission.