Stanley: Outdoor Food & Beverage Gear That's Stood the Test of Time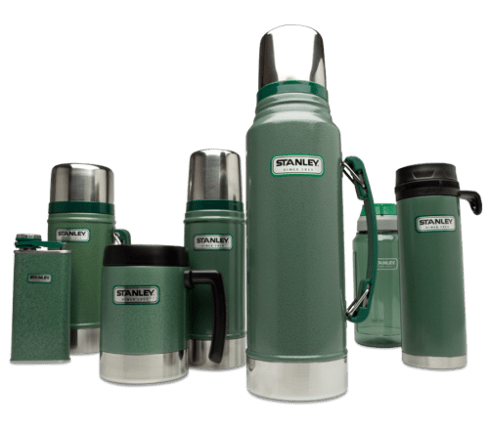 I'd bet there's a pretty good chance someone in your family has a Stanley thermos stashed in the basement, or out in the garage. Although this 100-year-old company has been making durable outdoor food gear for over a generation, it's back in the spotlight thanks to the Americana/nostalgia trend of recent years. But lest you think they're still only making that mottled green design, you'd be wrong! Stanley has updated with the times.
Stanley was founded in 1913, when William Stanley Jr. invented the all-steel vacuum bottle. The bottles were first carried on WWII B-17s, but by the 1960s they were on airlines, ocean liners, trains, and in hospitals around the country. The signature hammertone green, most associated with the brand, was introduced in 1953. (And personally, I still like it the best. I found one of of these green thermoses last summer in my grandmother's basement, and it's as heavy-duty and leak-proof as ever.)
The company remains headquartered in Seattle, but the products are now manufactured in Asia. Besides the Classic collection (in the hammertone green), Stanley has three other lines aimed at everything from commuters to hard-core outdoorsmen.
Do you have a favorite Stanley product or collection? Are you holding on to a vintage piece, or have you purchased from the company recently?
TOP ROW
(Images: Stanley)