Spring Brunching: 5 Tips on Setting a Beautiful Table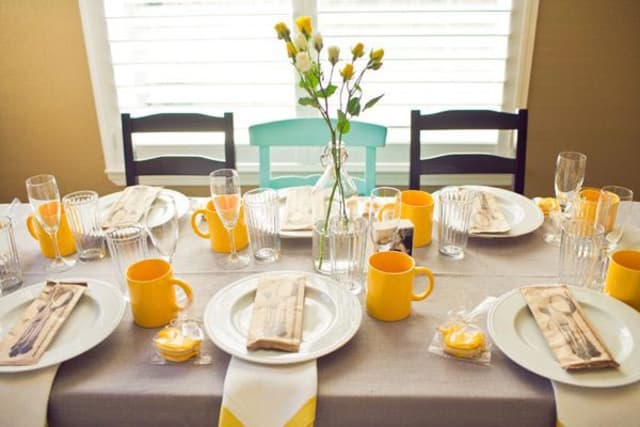 Throwing a brunch can feel overwhelming. First you have to think through the food, which let's face it, is often different fare than what many of us actually eat during the week for breakfast. Then comes table logistics: how to set the table to allow space for the dishes you're making
and
for your guests to sit comfortably. Some people choose colors. Some people choose a theme. It can all get pretty involved, but it doesn't have to. The key to setting the brunch table is giving it a bit of forethought and planning. But then make things easy on yourself ... and your guests. I hope some of these tips will help you to set a beautiful table and actually enjoy a brunch you're hosting without feeling overwhelmed or stressed.
5 Tips for Setting the Brunch Table
Small Pops of Color: Some of the nicest brunch tables I've seen have been the most understated. Choose some nice napkins that you like, set out glasses guests may need (juice cup, coffee cup), and think through the plates and silverware. Then strategically choose a pop of color to brighten the table. Whether it's yellow mugs or small gatherings of pink flowers, it will add brightness and cheer to the table without overwhelming you or visually overwhelming your guests.

Forget Formal Place Settings: I tend to be of the mind that the more comfortable and at-home your guests are, the better the gathering will be. For this reason I very rarely set the table formally for breakfast or brunch parties, instead preferring to have friends serve themselves from a separate buffet table. This encourages everyone to fend for themselves, chat while doing it, get exactly what they'd like to eat, and feel infinitely more at home.

Little Touches Go a Long Way: You've likely been to parties where you notice sweet little details that the host or hostess took time to do: whether it's handwritten place cards or a small treat to take home with you, these are the things that make a lasting impression. They often really help to pull a table together, too. So think about what excites you, beyond the gathering itself (the flowers, a a goody-bag, special place setting), and run with it.

Break up the Flower Arrangements: I grew up in a household where my mother bought fresh flowers all the time, especially for parties. And the thinking at the time was that you wanted a large arrangement smack in the center of the table. While this can certainly look quite stately, it also prevents you from seeing the person you're sitting across from and is often far too much for a brunch spread. Instead, break up your flower arrangement into many smaller bouquets scattered around the table. It looks more delicate and adds more visual interest.

Serving Pieces and Accoutrements: Let's be honest: you want to enjoy the brunch as much as your guests. A guaranteed way to ensure this happens is to quickly play through the meal in your head to make sure you've got all the serving spoons and utensils you need. Making coffee? Get out the creamer and sugar bowl. What will you serve the coffee in? Carafe for the juice? Juice glasses? Think through serving pieces and what you'll put each dish in — I even make sticky labels and place them on the serving pieces so on the day of the party, I minimize the thinking involved on my end.

Related: Spring Frittata with Asparagus and Radishes
(Images: Bump Smitten)