The Secret to Making a Better Turkey This Thanksgiving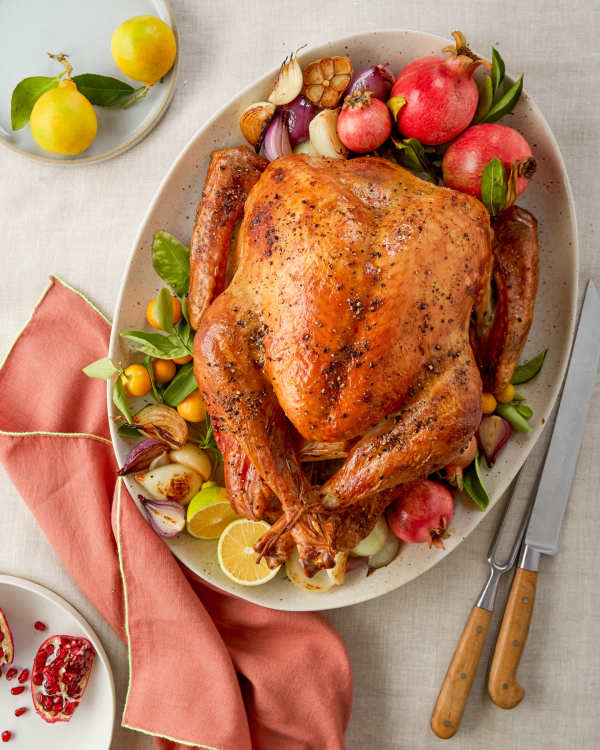 With turkey being the centerpiece of the Thanksgiving meal, it's probably the first thing you put on your grocery list. But before you start planning out the sides and dessert, don't forget that you'll also need a game plan for roasting that turkey so that it comes out juicy and delicious from the oven.
Here's what you need to add to that shopping list: The Spice Hunter's Original Turkey Brine. This pouch of salt, sugar, dried fruit, and spices even comes with its own brining bag. It will help you easily brine a whole turkey that will roast up full of flavor and will be worthy of its place at the table. But we're getting ahead of ourselves.
What is brining?
For those not familiar with brining, it's a process where soaking meat in salted water helps keep it moist and even speeds up the cooking. The salt penetrates and seasons the meat, so brining really is a win-win when you're cooking something as big as a whole turkey.
But why stop at just salt? It's a great time to add in other seasonings, and The Spice Hunter's Original Turkey Brine has a delicious blend of dried fruit, herbs, and spices so that you don't have to buy multiple jars of spices that you'll only use a little of. Just buy the one pouch, and all you need is water. Oh, and turkey.
The Magic of a Brining Bag
Even with the seasonings pre-measured, brining at Thanksgiving can seem intimidating since it involves wrestling a raw turkey soaking in a lot of liquid into the refrigerator. The Spice Hunter saves the day once again since they include the brining bag. All you have to do is put the turkey in the bag, add the dissolved brine, seal it up, and stash it away in the fridge. There's no worry about spills or liquid sloshing around, and the bag helps keep the turkey fully submerged in the brine so that every bite gets permeated with flavor. Plus, after you take the turkey out of the brine, there's no cleanup — just throw away the bag!
Go forth and brine!
If you've always wanted to brine your turkey but are nervous about doing it, this is one of the easiest ways to give it a try. It'll result in a juicy, tasty turkey that you'll be proud to carve up and serve to family and friends, and who doesn't want that?
Find out where to buy The Spice Hunter's Original Turkey Brine and how to cook your brined bird.
This post was created by the Kitchn Creative Studio and is sponsored by The Spice Hunter.
Thank you for supporting the brands that make Kitchn possible.