These New Meal Kits Make Sous-Vide Easier than a Slow Cooker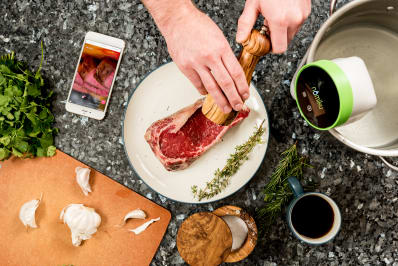 (Image credit: Nomiku)
If you're fluent in cooking, then chances are you've heard of sous-vide — which literally translates to "under vacuum" in French. It's a cooking technique conceived in the 1970s and the process entails putting ingredients in a bag, sucking the air out, and cooking the bag in a water bath at a precise temperature.
Sound fancy? It's cause it is. But now, thanks to a company called Nomiku, sous-vide cooking is more accessible and fail-proof than it ever was before.
The company is slated to debut the Nomiku Sous Chef Meal program on May 15 to 100 customers in California, followed by a nationwide roll-out. Using WiFi and technology, Nomiku lets the average Joe become a sous-vide chef.
Consumers can buy frozen meals that come equipped with a unique RFID tag. Waving the tag in front of the machine will tell the device the time and temperature to cook the bag. So, for the consumer the steps are as follows: Wave the tag in front of the machine and drop the product inside the pot. The machine and your smartphone can tell you when your meal is good to go.
Main meals range from $8 to $14, with sides costing anywhere from $4 to $6. The actual machine costs $149, but they can receive it back in food credit once they've spent $300 in meals. The subscription model is easy as well: The machine tracks inventory and reorders more food when you've got four packages left.
"This is the culmination of everything we've been working on since we started the company," says Lisa Q. Fetterman, Nomiku CEO and bestselling author of Sous Vide at Home in a statement. "Our 3rd-generation machine not only allows you to quickly prepare and eat the best food possible, but still has all the functionality of our connected WiFi device so that you can let your imagination run wild to create your own sous-vide dishes at home, as well."
Kitchn supports our readers with carefully chosen product recommendations to improve life at home. You support us through our independently chosen links, many of which earn us a commission.