Sodium Girl's Limitless Low-Sodium Cookbook by Jessica Goldman Foung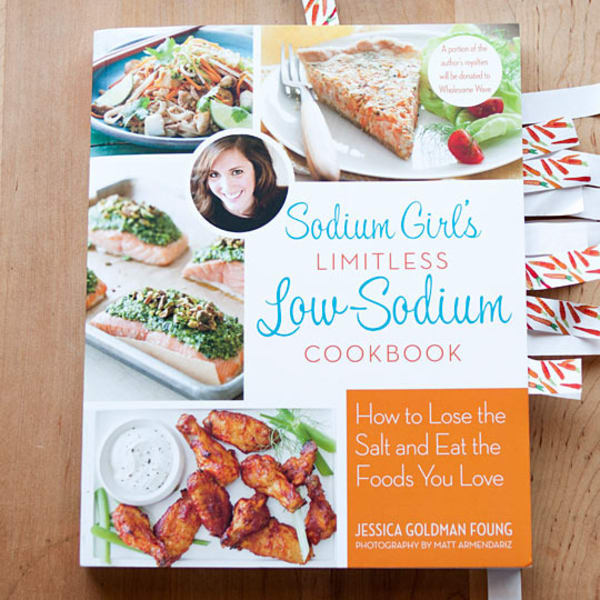 I am borrowing this book from a friend, and as you can see, it is already well-loved. Which is interesting, actually, because my friend is not on a low-sodium diet, and neither is anyone in her family. Such is the power of Jessica Goldman Foung's enthusiasm for her low-sodium lifestyle, one she did not adopt by choice but rather after being diagnosed with Lupus. This is a diet book in the truest sense: a book for those who, for one reason or another, need to maintain a very low-sodium diet. But it also includes lessons -- and recipes! -- that any food-lover can love.
Quick Facts
• Who wrote it: Jessica Goldman Foung
• Who published it: Wiley
• Number of recipes: Over 100
• Recipes for right now: Pomegranate Granola Fruit Chunks, Classic Bloody Mary, Spicy Sausage Pepper Poppers, Curry Chicken Salad, Sweet French Onion Soup, Potatoes Poutine with Mushroom Gravy, Pistachio and Broccoli Pesto-Crusted Salmon, Coconut Dream Bars, Quick Chai Tea Cookies
• Other highlights: A low-sodium diet isn't just about taking the salt shaker off the table. Jessica also explains in great detail many of the surprising sources of sodium in our diet, like baking soda (one teaspoon contains 1200mg) and uncooked artichokes (120mg). Surprised? Me, too! When you have to count every milligram to maintain your health, those things add up.
Jessica also doesn't try to convince us that low-sodium dishes taste exactly the same as regular dishes: they straight-up don't. But that doesn't mean that they can't still taste good. She looks to other ingredients to add big flavor and relies on techniques like searing and deglazing to give dishes more depth.
This cookbook is not only about giving you low-sodium options for favorite foods, but about giving you the tools for an entire low-sodium lifestyle. That includes what pantry items to stock, tips for eating out, navigating awkward social situations, and educating yourself on ways to manage this diet with aplomb.
A low-sodium diet isn't easy or without its sacrifices, but Jessica Goldman Foung definitely proves that it's possible to live sodium-free without giving up your love of food.
We'll hear more from Jessica Goldman Foung herself later this week. Stay tuned!
• Who would enjoy this book? People who need to maintain a low-sodium diet or who simply want to reduce the amount of sodium in their diet.
Apartment Therapy Media makes every effort to test and review products fairly and transparently. The views expressed in this review are the personal views of the reviewer and this particular product review was not sponsored or paid for in any way by the manufacturer or an agent working on their behalf. However, the manufacturer did give us the product for testing and review purposes.
(Images: Emma Christensen)
Kitchn supports our readers with carefully chosen product recommendations to improve life at home. You support us through our independently chosen links, many of which earn us a commission.