Smoke & Pickles by Edward Lee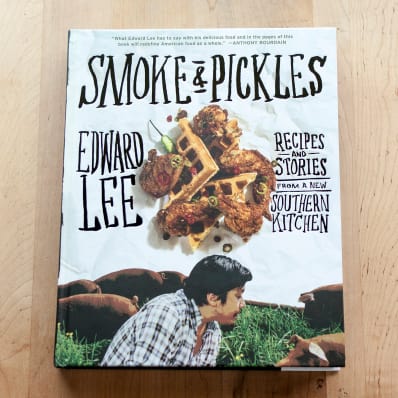 It might not seem like Korean food and Southern cuisine would have much in common — or even be able to share the same plate. Especially once you add a splash of classic French to the mix. But with Chef Edward Lee at the helm, these seemingly strange bedfellows start to make perfect sense. With this book, Smoke & Pickles, he's bringing his unique cuisine straight into our kitchens.
Quick Facts
• Who wrote it: Edward Lee
• Who published it: Artisan
• Number of recipes: About 130.
• Recipes for right now: Rice Bowl with Lamb, Bourbon-and-Coke Meatloaf Sandwich, Miso-Smothered Chicken, Chicken and Country Ham Pho, Cornmeal Fried Oyster Lettuce Wraps, Green Tomato Kimchi, Creamed Corn and Mushroom Congee, Whiskey Ginger Cake,
• Other highlights: Besides being the title for his cookbook, smoke and pickles are the common threads that tie Chef Lee's dishes together. The mingled smokiness of the Korean grill and the southern barbecue pit. The crunch of kimchi and pickled beans to cut through the rich smoked meats. He also borrows spices and ingredients from these two cuisines to flavor all of his dishes: miso in a classic Southern remoulade, country ham in a dish of pho, kimchi mixed with collards.
The first several chapters focus on the primary meats that Chef Lee uses in his cooking: lamb, beef, poultry, pork, and seafood. These chapters are followed by sections on pickles, vegetable side dishes (of which, many contain meat), cocktails and bar snacks, and sweet dishes. Yes, you definitely need to love meat if you're going to pick up this book! Overall, the recipes are appealing and inventive — while the flavors are likely familiar, these are dishes that you aren't likely to have seen outside of Chef Lee's Louisville restaurant!
By the way, if you're curious how a New Yorker raised by Korean parents ended up in Kentucky cooking Southern food, there are stories here for you. Essays on Chef Lee's early life, his training in the kitchen, and his circuitous path to opening a restaurant in Louisville are interspersed between the chapters and the recipe headnotes. Chef Lee is an engaging writer and his story is fascinating. If you're a bedtime cookbook reader, this one will have you up past midnight.
• Who would enjoy this book? Fans and followers of Chef Edward Lee, people looking for interesting new ways to cook with meat, lovers of Korean cuisine and Southern cuisine, adventurous eater and cooks.
→ Find the book at your local library, independent bookstore, or Amazon: Smoke & Pickles by Edward Lee
Apartment Therapy Media makes every effort to test and review products fairly and transparently. The views expressed in this review are the personal views of the reviewer and this particular product review was not sponsored or paid for in any way by the manufacturer or an agent working on their behalf. However, the manufacturer did give us the product for testing and review purposes.
(Images: Emma Christensen)
Kitchn supports our readers with carefully chosen product recommendations to improve life at home. You support us through our independently chosen links, many of which earn us a commission.