10 Smart Moms on the Best Nursing Coolers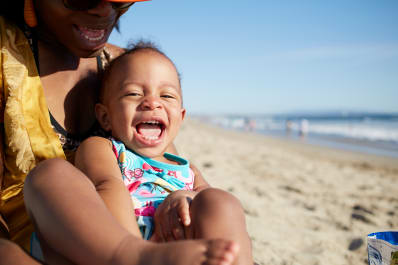 (Image credit: Granger Wootz/Getty Images)
I've finally entered that chapter in my life where I'm surrounded by new mom friends, and many of them are in vacation-planning mode. I've got a lot of questions: Where's the best place to travel with a baby? Are some hotels more crib-friendly than others? Is it difficult to pump and store breast milk on the road?
There are lots of options for those looking to keep their breast milk "on ice." Some companies have created baby products whose only purpose is to keep breast milk cold; other moms get creative with conventional items not intended for breast milk, but which still get the job done. So, is there a breast milk cooler that wins out above the rest?
I surveyed some of my closest friends who are moms, and asked around in various parenting Facebook groups, about the many ways to store breast milk on the go. Here's what everyone have to say.
I used an insulated lunch box that the hospital gave me, with an ice pack to take my milk to the NICU. I've also used an insulated grocery bag with an ice pack before. — Erin
A normal lunch bag does the trick just fine. It's easy to pump and pop a bottle or two into it while I'm at work, or while visiting my family. You have to make sure the ice pack is fully frozen but other than that, I don't feel the need to spend a lot of money on a fancy bag just for breast milk. — Danisha
Buy now: Lifewit Insulated Lunch Box Lunch Bag, $18
I started using the small cooler that came with my Medela pump and those blue rectangle ice packs when I pumped into small bottles. Later, I pumped into bags but still used the Medela cooler. It's so recognizable that when I see other women carrying it I want to give them a high-five and encourage them to keep pumping! — Lindsay
I have the Medela cooler bag with the ice pack that fits around four bottles. You can stick four bottles and one bag on top and the ice pack lasts through my 15-hour days. — Tiffany
Buy now: Medela Breast Milk Cooler Bag, $24
I live in Florida, and I've found that RTIC coolers are fantastic. They keep stuff really cold for a long time, which is vital in the Miami heat. — Larissa
Buy now: RTIC Day Cooler, $30
I've used the small bag that came with my pump, and I've also used a car "fridge" because I used to have a long commute from school to where Peyton was with her sitter, so I'd pump in the car on my drive and then keep it all cold. This way I could get her and have time to run errands or do whatever I needed to after school and I knew it would be cold. The car fridge helped a few times we took road trips too! — Stefanie
We go camping a lot, so we've had a car fridge for a while. I never have to worry about lugging around an extra pack of bottles, which can weigh a lot! As long as the car is running the bottle stays cold and I'm able to get where I'm going without worrying about my breast milk getting too warm. — Kim
Buy now: Cooluli Mini Fridge, $45
I have and love the PackIt Freezable Uptown Lunch Bag. The whole bag is freezable, so I'd just pop it in the freezer first thing in the morning at work, keep my milk in the fridge during the day, and then load up the frozen lunch bag for the commute home. — Kate
Buy now: PackIt Freezable Uptown Lunch Bag, $39
I have a separate bag for just my breast pump, and it's been a lifesaver. It's another thing to carry around but at least it keeps everything organized and in one place. Plus it has a cooler built in so I can pump, put the bottles inside, and know exactly where everything is without having to dig through a diaper bag. — Jeannie
Buy now: Bananafish Breast Pump Bag, $40
I love how the slim panels come out and take up almost no room in the freezer. - Faith, Kitchn's Editor-in-Chief
Buy now: Fridge-to-Go Insulated Lunch Box, $35
Kitchn supports our readers with carefully chosen product recommendations to improve life at home. You support us through our independently chosen links, many of which earn us a commission.