Small Cool Kitchens 2013: The Prizes!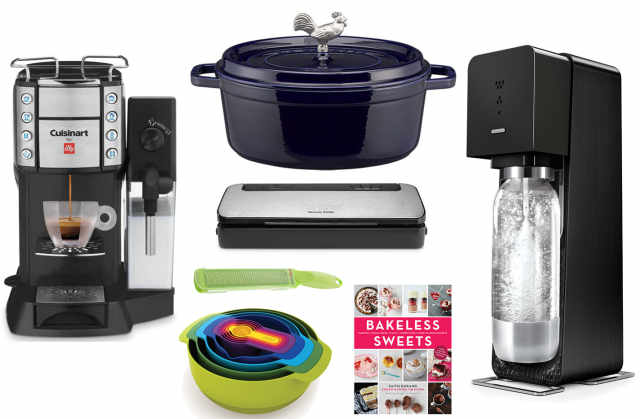 There's less than a week left to enter our
Small Cool Kitchens
contest! If that doesn't motivate you to enter, how about a look at the great set of prizes this year. Le Creuset, Cuisinart, SodaStream, Staub, and many more of our favorite brands helped us put together some great prize packages — over $600 for finalists and $1800 in kitchen tools for the grand prize winner. From a fabulous home espresso machine to a hefty Dutch oven to a sleek soda maker, take a look at the prizes for our finalists and Grand Prize winner.
Grand Prize Package
The grand prize winner will receive this set of kitchen tools in addition to their finalist prize package. Prizes and retail prices as
Cuisinart illy Espresso Machine - $599
Cuisinart and illycaffé have partnered to develop a new espresso machine line designed and manufactured by Cuisinart, and the Buona Tazza™ Super Automatic model is the premiere unit in the series. Coffee enthusiasts can brew perfect beverages at the touch of a button without moving the cup, and a removable milk tank sends hot and creamy foamed milk right into the cup for hands-free, barista-quality cappuccino and latte.

Staub Blue 5.75 qt. Oval Coq Au Vin - $279.99
Made in France. Self-basting spikes on the lid create a rain-forest effect evenly returning juices back onto food. Heavy weight; tight-fitting lid retains moisture. Oven Safe up to 500°F. Smooth enamel bottom works on all stovetops. Dishwasher safe.

Le Creuset Compact Lever - $130
Comfortable and easy to use, the compact lever from Le Creuset securely fits normal flanged bottlenecks and removes corks in a simple up-and-over motion. Dishwasher safe for easy cleanup.

Joseph Joseph Elevate Knives Carousel Set - $100
These new Elevate™ knives are all made from high-quality stainless-steel and have non-stick, silicone-coated blades and comfortable, ergonomic handles. The Elevate™ rotating knife block is extremely sturdy with a non-slip base and universal, magnetic knife slots that hold the knives securely in place when stored. This innovative design means that any Elevate™ knife can be stored in any slot, regardless of blade length.
Edgeware Adjustable Angle Manual Knife Sharpener - 39.99
This is the FIRST adjustable sharpener of its kind. The sharpener has unsurpassed technology that allows you to sharpen the knife to the original factory angle. It includes 3 slots for sharpening.

Edgeware Green Better Zester - $14.99
The V-etched Zester blade is made up of over 300 tiny V- shaped teeth and is covered with a non- stick coating. The food- approved coating allows the zester to smoothly glide across the surface of all types of citrus, while finely zesting the outer layer of skin and not the bitter pith. The Better Zester includes a "fresh zest" storage container with squeegee.
Schmidt Brothers 8" Forge Series Chef Knife - $39.99
The Forge 8-inch Chef's knife — a high-quality, all-purpose kitchen knife wrought from a hunk of hot professional-grade 100% German stainless steel. More than pure muscle, it's brains meets beauty.

4 Finalist Prize Packages
Each of the four finalists will receive a prize package consisting
SodaStream SOURCE - $129.95
SodaStream partners with Yves Béhar, world-renowned designer and social entrepreneur - the result is the new Source, an elegantly-designed soda maker that combines beauty, functionality and efficiency. The elegantly redesigned carbonating bottle easily locks into place with a single-push motion. Powered by a CO2 canister, the refined mechanics of SodaStream Source make the entire top surface responsive to touch, and the strength of carbonation is visible through an LED display, providing instant, visual feedback.

Pair of Staub .25 Quart Mini Round Cocottes - $119.98
Tight fitting flat lid features self-basting spikes for continuous, even distribution of juices throughout cooking, so food is moist and flavorful. Interior black matte enamel finish produces a natural non stick surface that is more resistant to scratches and chips. Smooth bottom is suitable for use on any cooking surface, including induction.
Summer Cookbook Collection from Stewart, Tabori & Chang - $127
Bakeless Sweets: Pudding, Panna Cotta, Fluff, Icebox Cake, and More No-Bake Desserts by Faith Durand, Home Made Summer by Yvette van Boven, Savory Bites: Meals You Can Make in Your Cupcake Pan by Hollis Wilder, Modern Mediterranean: Easy, Flavorful Home Cooking by Melia Marden
Cuisinart Vacuum Sealer - $99.95 (Available in August)
Keep favorite foods fresh and leftovers longer with our Cuisinart Vacuum Sealer. Extracting air to seal in flavor and preserve texture has never been easier, and you get more of all those healthy benefits that fresh food has to offer. Easy locking system. Simple three-button operation. Instant seal feature for delicate items – like fresh berries, fish, pastries and more! Bag cutter and vacuum hose conveniently store in unit.
Joseph Joseph Nest™ 9 Plus - $55


The Nest™ collection is the ultimate practical, space-saving kitchenware comprising a unique range of food preparation sets. Their innovative design allows the individual elements within each set to be stacked together, thereby occupying the absolute minimum amount of space. Includes 5 x measuring cups. 1 x small non-slip mixing bowl with measurements. 1 x stainless-steel mesh sieve. 1 x colander/strainer. 1 x large non-slip mixing bowl.

ZWILLING Pro 3" Paring Knife - $49.99


Small, light and versatile knife with a slim blade and centered tip. Peels, cuts, cleans and garnishes fruit and vegetables. Also suitable for preparing meat and larding. Manufactured in Solingen, Germany. Designed in Italy by Matteo Thun

Le Creuset Tea for One - $35


Tea for One, elegantly designed to serve a single cup of tea, is an innovative two-in-one set that offers a hassle-free alternative to the traditional tea set – with a teapot that sits perfectly on top of its cup. Dense stoneware blocks moisture absorption to prevent cracking, crazing and rippling. Dishwasher-safe.

Le Creuset Aerator Pourer Stopper - $35
Designed to instantly smooth and enhance the flavors of wine as it's poured, the patented Aerator Pourer Stopper features a 3-in-1 design that aerates thoroughly, controls flow carefully and seals securely for airtight, leakproof storage.

Dreamfarm Vebo - $29.95


Easily boil, steam and strain your vegetables all in your Vebo - one tool means less mess and less to clean up. Dishwasher safe. Premium-grade silicone is heat resistant to 260°C/500°F.

Dreamfarm Gripet - $24.95


Keeps notes, memos,

photos, bills and bulletins

Total Length: 40cm / 16".

Weight: 0.43kg / 0.95lb.
(Images courtesy of prize providers)