Slow Cooker Recipe: Cheesy "Baked" Spinach & Mozzarella Rigatoni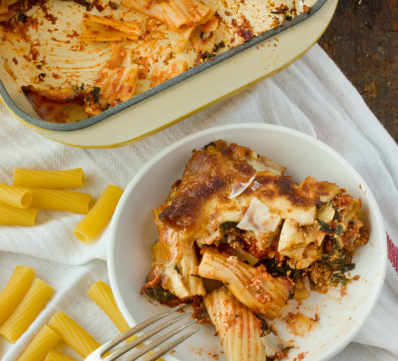 Want to throw all of your ingredients into a pot, walk away, and return to a cheesy, piping hot dinner? Yep, me too. A slow cooker makes easy work of "baked" pasta, minus the bake.
To be honest I've never really quite understood the whole slow cooker phenomenon. I do understand the convenience it offers to busy parents with lots of mouths to feed, but as a household of two, I just haven't really ever experienced the need; my trusty Dutch oven has never failed me when I feel like cooking low-and-slow.
That said, a few months ago I brushed the dust off my slow cooker and am pleased to say that I have stumbled across a number of dinner hits. I've had fun cooking out of my comfort zone and learning along the way, and in the spirit of slow cooker week, I thought it would be fun to go beyond the stereotypical braise and stretch my sea legs.
I'd seen a few recipes for slow cooker "baked pasta" I was interested to try. The beauty of a such a casserole is in its simplicity. And while I have a super easy recipe that I already love, I wondered if the slow cooker could actually make it even easier. Turns out, yes it could. So if you hate doing dishes and have a little bit of time to burn, this version is definitely a winner. It requires absolutely zero prep with exponential results. (Unless you consider thawing spinach prep. If so, use fresh.)
My trick for a lovelier presentation (sorry, but serving anything out of a slow cooker just ain't pretty) is to transfer the pasta to an oven safe serving dish and finish it off in the oven. This gives it that signature cheesy "baked" crust and lets you bring it straight to the table. It's the best of both worlds!
Cheesy "Baked" Spinach & Mozzarella Rigatoni
7

cups

good-quality tomato sauce (I prefer the simple Marcella Hazan sauce or 2 jars of Rao's)

1

(16-ounce) package rigatoni, penne, or ziti

1

(16-ounce) container whole-milk cottage or ricotta cheese

2

cups

(8 ounces) shredded mozzarella cheese, divided

1

(8-ounce) ball fresh mozzarella, chopped or pulled into bite-size pieces

1

(10-ounce) package thawed frozen spinach, squeezed of excess liquid

4

large cloves garlic, pressed or minced

2

tablespoons

olive oil

2 1/2

teaspoons

kosher salt

1/2

teaspoon

sugar

1/8

teaspoon

red pepper flakes

1/2

cup

grated Parmesan cheese
Coat the inside of a 4- to 6-quart slow cooker with cooking spray.
Rinse and drain the rigatoni in cold water. In the bowl of the slow cooker combine the noodles, tomato sauce, cottage cheese, 1 cup shredded mozzarella, fresh mozzarella, spinach, garlic, olive oil, salt, sugar, and red pepper flakes. Stir to thoroughly combine the ingredients.
Turn slow cooker on low and cook for 3 1/2 hours, until pasta is tender. Sprinkle remaining mozzarella and Parmesan over the top. Cover and cook on high until cheese is melted, 15 to 20 minutes. (If making in advance or serving for company, transfer cooked noodles to an oven-proof serving dish, top with the remaining cheese, and finish in a 400°F oven until cheese is melted and golden, 15 to 20 minutes.)
(Images: Nealey Dozier)