How To Marie Kondo Your Grocery List for Better Meal Planning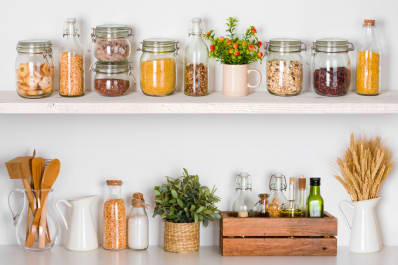 (Image credit: didecs/Getty Images)
Marie Kondo is most famous for her revolutionary simplifying tactics in her book The Life Changing Magic of Tidying Up. If you're meal planning (or you want to be a better meal planner), you can take a page from her book when it comes to making your own grocery list.
Here's how following Kondo's advice can get you ready for the grocery store with fewer forgotten items and faster than ever before.
Does This Can of Chickpeas Spark Joy?
If you're unfamiliar with Kondo's simplifying techniques, they go like this: Go through all the items in your pantry, one at a time, and only put back the ones that bring joy. Most importantly, put those chosen items back so that everything has a place.
When it comes to meal planning and grocery shopping, the first step is something we call taking stock — that is going through your fridge and pantry and seeing what you can use up. Think of this like Kondo's first step — you're going through what you already have and deciding what "sparks joy." Obviously we aren't asking you to empty the fridge, freezer, and pantry every week like Kondo might, but taking inventory prevents waste and creates a jumping-off point for our grocery list later.
Simplify Your Grocery List with a 4-Section Grid
We asked our Meal Plan Club contributors to snap a picture of a grocery list as research. Surprisingly, more than half of the grocery lists came back with the same four-square setup. Much like Kondo insists that there is a proper technique for folding and storing towels, this grid layout makes the most of your grocery list without complicating it.
Rather than a tiny section for produce, dairy, staples, freezer, meat, and on and on, the four-grid spread gives you a chance to think about how you shop the store. The produce section is the first place I walk into, so it becomes the top left-hand section of my grocery list. Then I walk the aisles grabbing canned goods, staples, and snacks, which go in the bottom left-hand square. The top right section of this simplified grocery list gets meats and dairy both on the back perimeter of the store. Finally, frozen items go in the bottom right so I can grab them on the way to the checkout aisle.
You can also use this four-section setup if you're planning for meal prep instead of a detailed meal plan. Make a section for the few recipes you're cooking, one for staples you rely on, and another for back-up meal components like rotisserie chicken.
Finally, you can also use this setup if you shop at multiple stores, creating a section for each.
Meal Plan Club with Kitchn
Meal Plan Club is our self-paced 4-week program full of educational posts, downloadable tools, and real-life sample meal plans where we'll walk you through each step of meal planning — from choosing recipes to meal prep and actually executing each meal — to make you a more confident meal planner in just one month. You can follow along here!
Kitchn supports our readers with carefully chosen product recommendations to improve life at home. You support us through our independently chosen links, many of which earn us a commission.