Sign Up Now for The Kitchn Cure!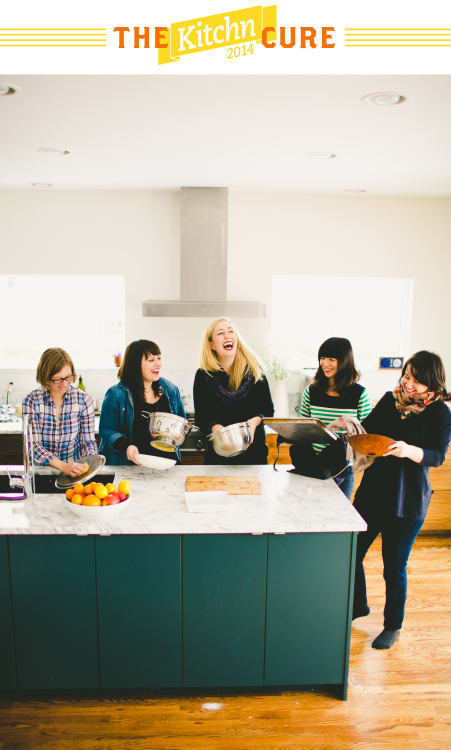 (Image credit: Rachel Joy Baransi)
Next week we are starting our annual Kitchn Cure! Are you ready? If you've never taken The Kitchn Cure, here's the scoop: It's a 4-week program of small daily tasks and encouragements to get your kitchen into shape for fall cooking. We'll gently prompt you to clean your fridge, wipe out your spice shelves, and take charge of your cooking space. As I said last year, "My experience can be summed up this way: it made me finally do the things I've been wanting to do in my kitchen."
Are you ready to make your space healthier, fresher, and more organized? Join us! We're all in it together!
What Is The Kitchn Cure?
Sara Kate Gillingham, The Kitchn's founder, started The Kitchn Cure all the way back in 2008, with daily assignments to help us pull together our pantries, clean up our kitchens, and making cooking (and hospitality) just a little bit easier and more joyful. We've been helping people take charge of their kitchens and feel stronger and healthier ever since.
20 Assignments, 20 Days
We've tweaked the formula a bit each year. At times the Cure has been an 8-week project. Last year we cut it down to just two intense weeks. We heard from many of you that this was too brief a time to deep-clean the kitchen, especially when juggling busy schedules.
So this year The Kitchn Cure is back to a 4-week schedule of 20 brief assignments that can be done in about an hour or much less each day.
Get an Email & Follow Along at Home
We send you an email with each assignment so you can follow along at home.
This year we're also making it easier for those of you who would rather tackle your kitchen over the weekend. As you'll see below, you can follow along day by day, or opt for a once-a-week digest of all the assignments to do over the weekend.
It's All About You and Your Kitchen
Ultimately, The Kitchn Cure is about you and your kitchen, and what you need to do to feel like you own your space and it works for you. Don't need to clean out your freezer? Skip it! Need three days for decluttering your pantry? Go for it.
Each assignment is a starting place, a task with advice, tips, and encouragement (seriously, don't we all need a little help cleaning out the fridge?). There's lots of community participation and help from one another; we love it when you share your progress on Instagram and Twitter (use the #kitchncure hashtag).
The Kitchn Cure is your ticket to a fresh, clean kitchen, ready for joyful cooking, and we can hardly wait to get started. We kick it off next Monday, August 11. Ready to join us?
Ready to Sign Up for The Kitchn Cure?
How do you sign up for The Kitchn Cure? It's easy: register to get the daily assignments by email, and follow along at home at your own pace.
To help you customize your experience of The Kitchn Cure, this year you have two options in how to take The Kitchn Cure. You can receive a daily email, or a weekend email. Just sign up for one, and Cure away with us!
Option #1: Daily Doer
1 email every weekday
If you want to follow along on weeknights and relax on the weekends, then sign up for our weekday email. One assignment a day!
Option #2: Weekend Warrior
One email on Friday
If you would prefer to tackle your kitchen over a series of weekends, sign up for our Weekend Warrior email. On Friday evenings you'll receive one email with all five of the week's assignments to give you your weekend marching orders.