Beer Review: Siamese Twin Ale from Uncommon Brewers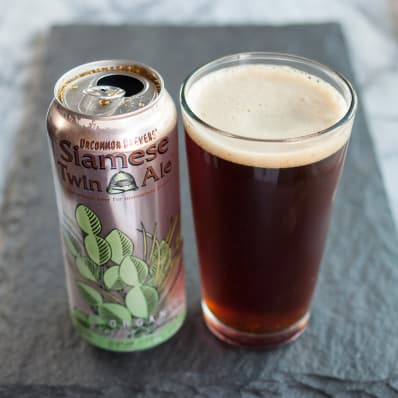 I love a beer that breaks the rules. This one attracted me first for its sleek, silvery tallboy can and second for its description as an "ale brewed with lime leaves, lemongrass, and coriander." It's also an organic ale, which is still unusual enough in the beer world for me to take note. Done and done.
Beer Details: Siamese Twin Ale from Uncommon Brewers, Santa Cruz, CA (Belgian-Style Dubbel with spices, 8.5% ABV)
Appearance: Deep russet brown in color and very clear with a cap of foam that looks so creamy, I want to swipe some with my finger like frosting.
Aroma: Sweet and earthy — reminds me of leaf piles in the fall!
Taste: So smooth, so creamy. Sipping this is like drinking liquid candy. It tastes like a cross between Werther's Originals and Starbursts — an unlikely combo, perhaps, but a tasty one. The hops are very subdued, which lets all those fruity Belgian yeast esters and sweet caramelized malts really shine. Notes of raisin and ripe stone fruits. It's warm with baking spices and lush without feeling overly heavy. I can't say that I taste much influence from the lime leaves or lemongrass, though the coriander fits with the earthy spiciness. Basically, this is a really good and very tasty example of a classic Belgian dubbel.
I have to admit that I felt a little confused by this beer. Don't get me wrong — it's a fantastic glass of beer. It's just that I picked it up for its unusual spices and with the expectation of an ale with an Asian influence — something spicy and citrusy and crisp. Instead, I felt that the fruitiness of the Belgian yeasts and the caramel maltiness of the dubbel style were my main takeaways. If there's kaffir lime and lemon grass in here, it's been overwhelmed by the style. Delicious though this is, I would love to see this same spice profile with a style that would do better at showcasing it.
Food Pairings: This is a rainy day beer — save it for one of those late summer afternoons when the rain is pouring down and you find yourself wanting a sweater for the first time in weeks. Pick up some bread and cheese at the store, slice up a few early apples, and sip this beer while you watch the rain fall.