Why You Shouldn't Register for a Set of Pots and Pans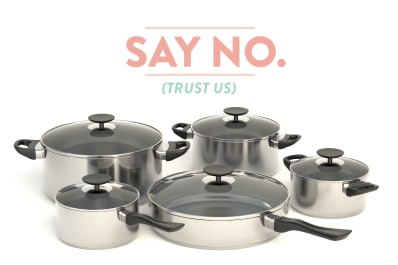 (Image credit: Susanna Hopler/Paket/Shutterstock)
Whether you're registering for your wedding or just restocking your kitchen, there are a bunch of things right off the bat that you just do not need. You do not need unitasking tools. You do not need whiskey stones. And you do not need a full set of pots and pans. Actually, ditto when it comes to knife sets.
Let us explain.
Buying things in sets is usually a good way to save money. A set of dinnerware is almost always going to be cheaper than buying the pieces separately. And yes, buying a set of pots and pans will probably be cheaper than building your own set. So why not buy the big ol' box?
Because you're going to get a ton of stuff that you just do not need — and miss out on some things that you do need. So whatever money you save could end up costing you in the long run.
For example, a stainless steel set probably won't come with a nonstick skillet. (And you really need a nonstick skillet!) Another set might come with a four- and a six-quart sauté pan, the former of which you may never, ever pull out. More is not more, here! It's just more stuff for you to store and more stuff for you to have to pick between when cooking (and there's just no need to overcomplicate the process).
The solution: Register for or buy open-stock pots and pans. The term"open-stock" just refers to buying things individually versus in sets. Do this with knives, too.
What you'll need will really depend on how — and what — you cook. But we have some general guidelines that will help you.