Should I Store My Cookbooks in the Kitchen?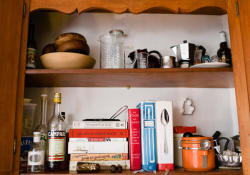 Q:
I have been wanting to move my cookbooks into my kitchen on a couple of shelves for better access, but my husband thinks that they are going to get that icky cooking grease film on them. We don't have an extractor fan (it's a rental) but the books would be on a different wall about six feet from the stove.
I've considered a closed cabinet, but shelves are really what I've got my heart set on. I am wondering if any other Kitchn readers have had problems with things on open shelves that aren't used everyday getting greasy.
Sent by Alexandra
Editor: Readers, what do you think? Do you find that items stored on open shelves away from the stove still become greasy?