Store Review: WhiskNew York

We just got back from a visit to Williamsburg, Brooklyn, where we stopped in at Whisk, a comprehensive, one-stop cooking shop (with charm to boot) that opened just a few months ago...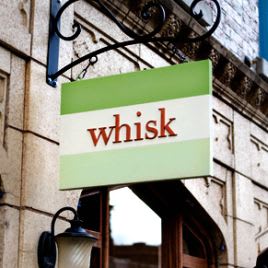 We talked to one of the owners, Natasha Amott, who runs Whisk with her business partner Jocelyn Patten. Natasha and her husband Jeffrey Patten (Jocelyn's brother) also own Uva, a wine store down the street. Natasha told us that the neighborhood was in need of a shop to serve home cooks, and we think Whisk hits the spot on a lot of levels.
The beauty of the store is that you can find almost everything. There are the big items: standing mixers, cookware from Staub, Lodge, and Mario Batali, and reasonably priced bakeware. We were happy to see basic tools like mandolines and the whole line of Peugot pepper mills (we bought one).
But tucked in the shelves, among sweet little handwritten signs, are all manner of gadgets and fill-in kitchen items. There are buckets of wooden spoons, piles of tea paraphernalia, and quirky little things like the 99-cent cake tester (for a buck, we think it's a unitasker we'd actually like to have).
And there are plenty of items that are just lovely to look at: linens, cake stands, simple white dishware, and old-fashioned storage containers from Typhoon Vintage Kitchen. There's also a well-edited selection of cookbooks.
Whisk is only one stop into Brooklyn on the L train... Closer than some downtown Manhattan shops, depending on where you live.
Related: Store Review: Macy's Cellar
(Images: Whisk sign from Whisk; Elizabeth Passarella)